Careful with Shopping in London!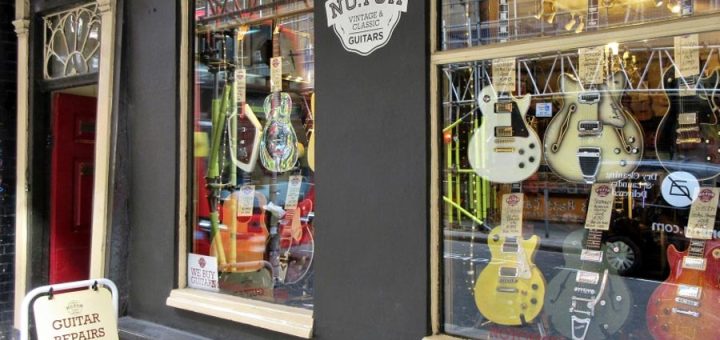 Bericht von Urs Müller
Komme gerade von London zurück. War da mit meiner Frau, also mehr Shopping und die City genießen. Weniger Musik und Konzerte. Hab da das neue Mojo Magazin entdeckt. Da sind 20 Seiten über Pink Floyd drin. Cool. Vor allem auch über Nick Masons Saucerful Concerts mit einigen Bildern von Rehearsals.
Natürlich musste ich noch in die Denmark Street, wo all die Gitarren Shops sind. Ein "Must". Wie sich bald herausstellen sollte – ein unbedingtes "Must"! Schau ich mal bei  "No.Tom Guitars" herein, da kommt mir doch jemand der wenigen Kunden irgendwie bekannt vor. Bin mir zwar nicht sicher – aber schlussendlich spreche ich ihn an.
Urs: Hello – Sorry – Don't you play with Nick Mason right now? Saucerful of Secrets. Your at the Guitar, don't you?
Oh hello. Yes indeed I do …
Es war also tatsächlich Gary Kemp. Absolut unglaublich. So haben wir uns einige Minuten unterhalten.
Mit Nick Mason zusammen zu arbeiten sei ein absoluter Hit. Nick ist eine ganz tolle Person meint er. Und vor allem Guy Pratt. Supertyp.
Ob ich auch Musiker sei, musste ich leider mit Nein beantworten. So fragt er mich was ich denn tue. "Oh Architekt, das selbe wie Nick Mason und die Jungs von Pink Floyd am Anfang taten…" und so plaudern wir weiter. Über die Europa Tournee und Konzert in Zürich, etc. Es war echt witzig und interessant.
Gibt es denn Zufälle.