Fotograf Andy Earl über sein "Delicate Sound Of Thunder" Coverfoto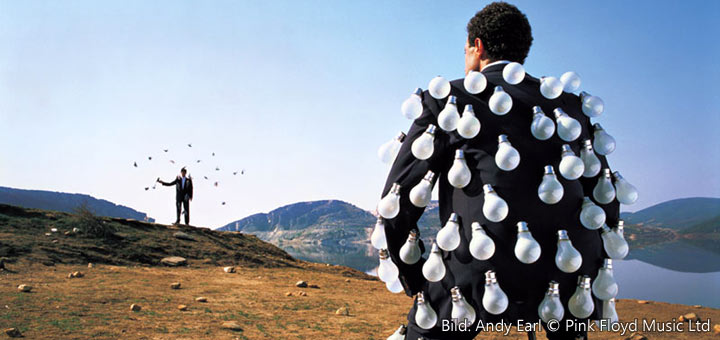 Der Guardian-Fotograf Andy Earl hat einige der denkwürdigsten Albumcover der jüngeren Geschichte festgehalten. Im Guardian erschien jetzt ein kurzer Artikel in dem sich Herr Earl über seine allerliebsten Cover, darunter das Livealbum der "A Momentary Lapse Of Reason" Tour "Delicate Sound Of Thunder" von Pink Floyd, geäußert hat.
Andy Earl: This is Pink Floyd's album cover for Delicate Sound of Thunder – their first live album, recorded over five night in New York. This is one of my favourites, and I worked on it with Hipgnosis, which was an English art design group based in London. This picture really captures a surreal moment that defines their music and album.
Ich erinnere "noch etwas" an die Freude, als im November 1988 nach "Ummagumma" endlich wieder ein offizielles Livealbum von Pink Floyd veröffentlicht wurde!
Ein paar zusätzliche Details über "Mister Light meets Mister Sound" findet ihr hier: Delicate Sound Of Thunder.
Den Artikel über die Lieblingscover von Andy Earl gibt es unter folgenden Link: Guardian: Meet the man behind one of Pink Floyd's most iconic album covers.