Roger Waters 6.7.2018 London Hyde Park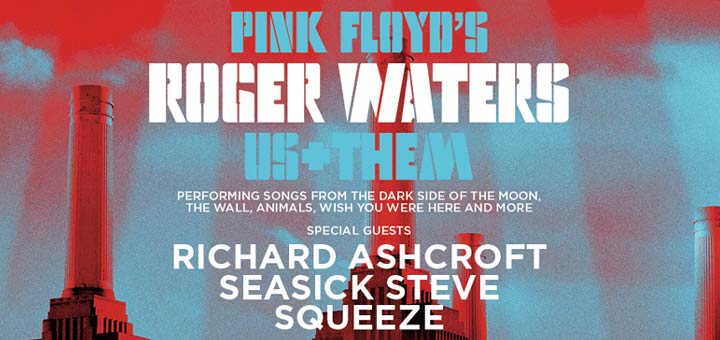 Auf meiner Suche nach Informationen über das gestrigen Open Air im Hyde Park stieß ich auf folgenden Informationen!
The Sun is going down: Roger Waters schützte seine Augen vor der tief stehenden Sonne mit einer Sonnenbrille! Das erinnerte an alten Zeiten!
Battersea Power Station: Die vier Schornsteine fuhren auf spektakulär Art und Weise aus dem Boden heraus!
Nick Mason: Erschien leider nicht als Gast-Trommler auf der Bühne! Stattdessen sah er sich die Show vom VIP-Bereich aus an, wie das Foto von Thomas beweist! (Danke)
Zugabe: Kein Mother!
Kefije: Während seiner Rede trug Waters ein Tuch, das von einem palästinensischen Flüchtling hergestellt wurde.
Rede: "We are all faced with a choice, all of us, and that choice is whether or not we believe in the contents of the Universal Declaration of Human Rights in Paris in 1948. The declaration states that all of us, all of us here in this beautiful park, all of us in this country, but all of us, all our brothers and sisters all over the world deserve equal human and civil rights. And these rights, according to that 1948 declaration, are irrespective of ethnicity or religion, so they would extend to my brothers and sisters in Palestine.
Feuerwerk: Am Ende von Comfortably Numb.
Fotos: Roger Waters Hyde Park 2018
Statistik:
Tournee: Us+Them 2018
Spielstätte: Great Oak Stage, Hyde Park
Plätze: 60.000
Adresse: Westminster, W2 2UH, London
Ticketpreise: 65 £ bis 249,90 £
Beginn: 20:00 Uhr | Einlass: 14 Uhr
Zeitplan:
GREAT OAK STAGE
Roger Waters 19.50h – 22.25h
Richard Ashcroft 17.50h – 19.00h
Seasick Steve 16.00h – 17.10h
BARCLAYCARD STAGE
Squeeze 19.00h – 19.40h
Slydigs 17.10h – 17.50h
Robert Vincent 15.30h – 16.00h
ALLTHINGSMATA 14.30 – 15.00h
SUMMER STAGE:
Colin Macleod 17.10h – 17.50h
CC Smugglers 15.30h – 16.00h
Lil & Ollie 14.30h -15.00h
Band:
Roger Waters: Vocals, Bass, Guitars
Joey Waronker: Drums, Percussion
Jonathan Wilson: Guitars, Bass, Vocals
Gus Seyffert: Guitar, Bass, Keyboards, Backing Vocals
Dave Kilminster: Guitars, Bass, Talkbox, Backing Vocals
Bo Koster: Hammond-Orgel, Piano, Keyboards
Jess Wolfe: Vocals, Percussion
Holly Laessig: Vocals, Percussion
Ian Ritchie: Saxophon, Bass
Jon Carin: Keyboards, Guitars, Backing Vocals
Setlist:
Set 1:
01. Speak to Me (Intro)
02. Breathe
03. One Of These Days
04. Time
05. Breathe (Reprise)
06. The Great Gig in the Sky
07. Welcome To The Machine
08. Déjà Vu
09. The Last Refugee
10. Picture That
11. Wish You Were Here
12. The Happiest Days of Our Lives
13. Another Brick in the Wall (Part 2)
14. Another Brick in the Wall (Part 3)
Set 2:
15. Dogs
16. Pigs (Three Different Ones)
17. Money
18. Us and Them
19. Smell the Roses
20. Brain Damage
21. Eclipse
22. Comfortably Numb