Roger Waters 6.7.2018 London Hyde Park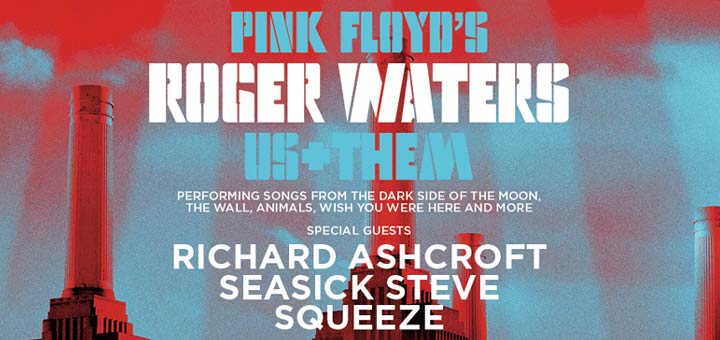 Im Zuge des "British-Summer-Time-Festival", das dieses Jahr vom 6. Juli – 15. Juli 2018 im Hyde Park in London stattfindet, treten neben Roger Waters, The Cure 7.7. (Support: Interpol, Goldfrapp), Eric Clapton, Santana & Steve Windwood 8.7., Michael Buble (13.7.), Bruno Mars (14.7.) und Paul Simon (Support: James Taylor, Bonnie Riot), der am 15.7. das Festival abschließen wird, auf. Die Konzerte von The Cure und Eric Clapton sind bereits ausverkauft!
Nick Mason als Gast?
Seit gestern ist bekannt welche Bands vor Waters spielen werden. Es sind Richard Ashcroft, Seasick Steve, Squeeze, die quasi als Anheizer fungieren! Ich denke man darf davon ausgehen, dass Waters bei diesem Auftritt seinen alten Freund Nick Mason, als Gaststar auf die Bühne holen wird!
Jemand von uns dabei im Hyde Park?
Statistik:
Tournee: Us+Them 2018
Spielstätte: Hyde Park, London
Kapazität: 60.000 Besucher
Adresse: Westminster London, W2 2UH
Ticketpreise: 65 £ bis 249,90 £
Beginn: 20:00 Uhr | Einlass: 14 Uhr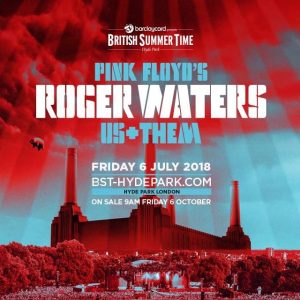 Band:
Roger Waters: Vocals, Bass, Guitar
Joey Waronker: Drums
Jonathan Wilson: Guitar, Vocals
Gus Seyffert: Guitar, Bass
Dave Kilminster: Guitar
Bo Koster: Hammond Organ, Piano
Jess Wolfe: Vocals, Percussion
Holly Laessig: Vocals, Percussion
Ian Ritchie: Saxophone, Bass
Jon Carin: Keyboards, Guitar, Vocals
Vorgruppen:
Richard Ashcroft, Seasick Steve, Squeeze und mehr!
Setlist:
Set 1:
01. Speak to Me (Intro)
02. Breathe
03. One Of These Days
04. Time
05. Breathe (Reprise)
06. The Great Gig in the Sky
07. Welcome To The Machine
08. When We Were Young (Intro)
09. Déjà Vu
10. The Last Refugee
11. Picture That
12. Wish You Were Here
13. The Happiest Days of Our Lives
14. Another Brick in the Wall (Part 2)
15. Another Brick in the Wall (Part 3)
Set 2:
16. Dogs
17. Pigs (Three Different Ones)
18. Money
19. Us and Them
20. Smell the Roses
21. Brain Damage
22. Eclipse
23. Mother
24. Comfortably Numb