Roger Waters zollt Sängerin Lorde Respekt und dankte Deutscher Technologie!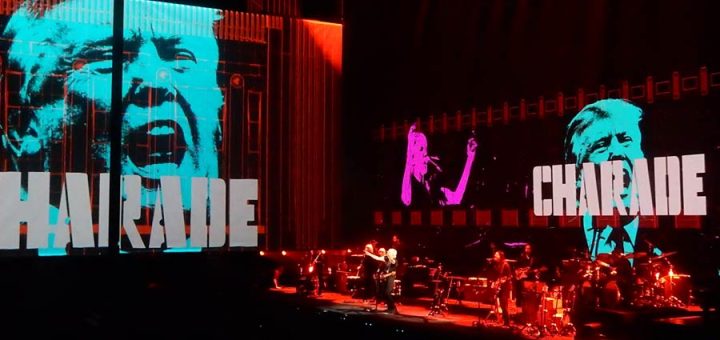 Roger Waters blieb der Setlist-Variante treu bei der er "Mother", als erste Zugabe, anstatt der beiden anderen The Wall Songs "Vera" und "Bring The Boys Back Home", spielt. Seine Band blieb unverändert, also mit dem letzten Neuzugang Bo Koster an Hammond Organ und Piano. Während der Auftakt-Show in Auckland hat Waters nicht allzu viel gesprochen. Die Gelegenheit eines persönlichen Grußes an die neuseeländische Sängerin Lorde zu richten, sie hat ihr für Juni geplantes Konzert in Tel Aviv abgesagt, die konnte und wollte er sich nicht entgehen lassen.
I can't let this chance go by without a hat tip to one of your musicians… Lorde …. who stood up for… the Palestinian people. I'm really proud of her and if anyone knows her, tell her to come to one of the gigs. You're a strong, brave woman and I admire you.
Thank God for German technology
Auf Waters Facebookseite sieht man ein kurzes Video von der Dankesrede. Als sich Waters eine kurze Pause nahm um auf den riesigen LED-Screen, der sich hinter ihm über die gesamte Breite der Bühne erstreckte, dankte er spontan Gott dafür, dass es Deutsche Technologie gibt.
Sorry, I'm gonna take a moment to enjoy it. Thank God for German technology. Not that there is a God, but you know what I mean.
Einen Konzertbericht vom Auftakt der "Us+Them" Tour 2018 in Auckland findet ihr hier: Gig Review: Roger Waters.
Statistik:
Tournee: Us+Them 2018
Spielstätte: Spark Arena
Kapazität: 12.000 Plätze
Adresse: 42 – 80 Mahuhu Crescent, Auckland, NZ 1010
Ticketpreise: NZ $99.90 – NZ $299.90
Beginn: 20:00 Uhr | Einlass: 18:30 Uhr
Band:
Roger Waters: Vocals, Bass, Guitar
Joey Waronker: Drums
Jonathan Wilson: Guitar, Vocals
Gus Seyffert: Guitar, Bass
Dave Kilminster: Guitar
Bo Koster: Hammond Organ, Piano
Jess Wolfe: Vocals, Percussion
Holly Laessig: Vocals, Percussion
Ian Ritchie: Saxophone, Bass
Jon Carin: Keyboards, Guitar, Vocals
Setlist:
Set 1:
01. Speak to Me (Intro)
02. Breathe
03. One Of These Days
04. Time
05. Breathe (Reprise)
06. The Great Gig in the Sky
07. Welcome To The Machine
08. When We Were Young (Intro)
09. Déjà Vu
10. The Last Refugee
11. Picture That
12. Wish You Were Here
13. The Happiest Days of Our Lives
14. Another Brick in the Wall (Part 2)
15. Another Brick in the Wall (Part 3)
Set 2:
16. Dogs
17. Pigs (Three Different Ones)
18. Money
19. Us and Them
20. Smell the Roses
21. Brain Damage
22. Eclipse
23. Mother
24. Comfortably Numb
Ich danke Thomas Zeidler für die Info!