David Gilmour 6.4.2016 Chicago Auditorium Theatre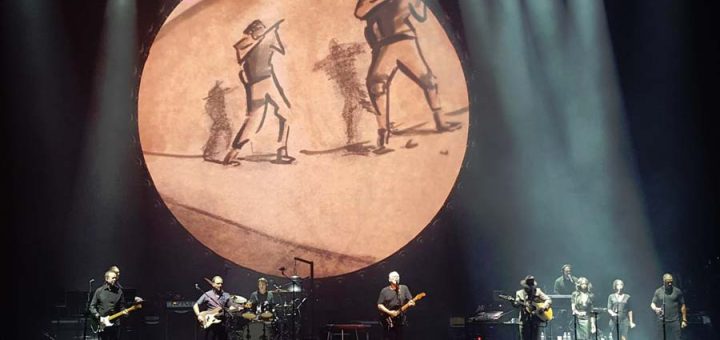 David Gilmour und Phil Manzanera kehrten gestern in das Auditorium Theatre zurück, dorthin wo sie mit Pink Floyd und Roxy Music vor vielen Jahren aufgetreten sind. In Gilmour's Fall war das 1971 und 1972! Es durchaus möglich, das Gilmour gestern sein längstes "Comfortably Numb" Solo der laufenden Tour 2015/2016 spielte. Das alte Theater inspirierte ihn auf alle Fälle!
Bericht von Ron Fleischer
Incredible show last night. Compared to the cavernous United Center the show at The Auditorium was like being in your living room if you were sitting close enough like we were (John and I had 15 row dead center VIP seats and worth every penny!). The stage was so small and Mr Screen seemed to just squeeze into the space above the stage. The sound was amazing as expected and very loud. The floor beneath us was vibrating and pulsing all night from the bass. And it was really nice to be sitting in very comfy seats for the entire show up until Run Like Hell. With a sloping floor and a shorter guy sitting in front of me I had an unobscured view of the stage. The venue also seemed to influence the crowd which was much more well behaved than at the United Center.
The performance was solid, the best I've seen since I can remember even though he flubbed a few lyrics (like during In Any Tongue – he just backed away from the mic, laughed at himself, and resumed singing). Fat Old Sun gave him his first of many well-deserved standing ovations. It was an amazing night not likely to be topped, but I'm hopeful. 2 down, 3 to go!
Thanks again Ron!
Spielstätte: Auditorium Theatre
Kapazität: 3.817, ausverkauft
Adresse: 50 E Congress Parkway, Chicago, IL 60605
Web: www.auditoriumtheatre.org
Ticketpreise: $113 – $163
Einlass/Beginn: 18h/20h
Band:
David Gilmour: Guitars, Vocals
Phil Manzanera: Guitars, Backing vocals
Guy Pratt: Bass, Backing Vocals, Lead Vocals (Run Like Hell)
Jon Carin: Keyboards, Programming, Guitars, Backing Vocals, Lead Vocals (Comfortably Numb)
Steve DiStanislao: Drums, Backing Vocals
Kevin McAlea: Keyboards, Harmonica
João Mello: Saxophones, Keyboards (The Blue), Acoustic Guitar (In Any Tongue), Backing Vocals
Louise Clare Marshall: Backing Vocals
Bryan Chambers: Backing Vocals
Lucita Jules: Backing Vocals
Setlist:
Set 1:
01. 5 A.M. 2:43
02. Rattle That Lock 5:31
03. Faces of Stone 6:19
04. Wish You Were Here 5:23
05. What Do You Want From Me 4:32
06. A Boat Lies Waiting 4:30
07. The Blue 6:45
08. Money 8:02
09. Us and Them 7:51
10. In Any Tongue 7:48
11. High Hopes 9:28
Set 2:
12. Astronomy Dominé 5:30
13. Shine On You Crazy Diamond 10:07
14. Fat Old Sun 6:28
15. Coming Back To Life 6:56
16. The Girl In the Yellow Dress 6:01
17. Today 6:48
18. Sorrow 11:07
19. Run Like Hell 7:04
Zugaben:
20. Time 5:35
21. Breathe (Reprise) 1:12
22. Comfortably Numb 8:49