David Gilmour 8.4.2016 Chicago United Center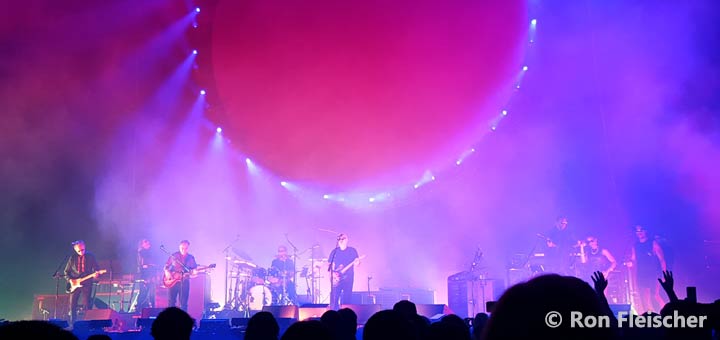 Das vorerst letzte Konzert von David Gilmour im United Center Chicago war das bisher längste seiner "Rattle That Lock" 2015/2016 Tour. Erstmals spielte Gilmour 23 Songs bei einem Konzert, also "What Do You Want From Me" in der ersten und "Coming Back To Life" und "On An Island" in der zweiten Konzerthälfte.
Auf Gilmour's Website wird außerdem berichtet, dass inzwischen vor den Konzerten, wie bei Pink Floyd früher üblich gewesen, eine Soundcollage bestehend aus verschiedenen Geräuschen, wie z.B. Vögelgezwitscher, ein vorüber fliegendes Flugzeug, ein Hubschrauber und andere, als Intro abgespielt wurde!
Rick Wright's Tochter Gala, sein Sohn und Enkel waren im Publikum. Gilmour erinnert an Wright mit dem Song "A Boat Lies Waiting", in welchem man ihn sprechen hört. Das muss sehr emotional für seine Familie gewesen sein.
Ein P&S Besucher, also einer aus unserer Mitte war gestern dabei. Er hatte folgendes aus Chicago zu berichten!
Ein grandioses Konzert!

Bericht von Jan Schäfer

Ron Fleischer hat seine Eindrücke vom 4.4.2016 sehr gut wiedergegeben, deshalb nur kurz: dies war ein spektakuläres Ereignis welches sich sicherlich in den Köpfen der meisten anwesenden Zuschauer eingebrannt hat.
Der Einlass war um 18:50 Uhr. Kein freier Platz war zu sehen. Zudem war es ein klasse Publikum, trotz Alkoholausschanks keine Aggression, prima höflich und nett, und größtenteils frenetisch, eine Überraschung für uns. Die Zuschauer belohnten jeden "Extra-Einsatz" (wie mir mein amerikanischer Sitznachbar bestätigte, gab es von selbigen geniale Geschenke des Gitarristen für die Fans derer sehr viele) an den Saiten mit ohrenbetäubendem Applaus und Gesang, sie kannten nachweislich die Lieder auswendig.
Von Alt und Jung bis Blumenkind (deren Enkelin saß unter uns, und genoss ungeniert eine ZIGARETTE ;-)), war es genau die Mischung die so ein Konzert unvergesslich werden lässt. Der Sound war voluminös, glasklar mit einer geballten Ladung Bass. Kurzum, ein grandioses Konzert!
Mit weit aufgerissen Augen hörte ich im Gedränge der Menge eine junge Frau den Herrn anrufen: "OMG". Wen sie damit wirklich meinte sollte klar sein… Bei "Coming Back To Life" war David sprichwörtlich ein Schatten seiner selbst (s. Anhang). Offensichtlich hatte die Lichttechnik da einen kleinen Schwächeanfall. 😉
Amazing Night!
Kommentar und Fotos von Ron Fleischer
It was an amazing night. The crowd was completely silent throughout the final acoustic guitar part of High Hopes….all hypnotised in the moment!
Ich bedanke mich bei Jan und Ron!
Spielstätte: United Center
Kapazität: 14.092, ausverkauft
Adresse: 1901 W Madison St, Chicago, IL 60612
Web: www.unitedcenter.com
Ticketpreise:
Einlass/Beginn: 18h/20h
Band:
David Gilmour: Guitars, Vocals
Phil Manzanera: Guitars, Backing vocals
Guy Pratt: Bass, Backing Vocals, Lead Vocals (Run Like Hell)
Jon Carin: Keyboards, Programming, Guitars, Backing Vocals, Lead Vocals (Comfortably Numb)
Steve DiStanislao: Drums, Backing Vocals
Kevin McAlea: Keyboards, Harmonica
João Mello: Saxophones, Keyboards (The Blue), Acoustic Guitar (In Any Tongue), Backing Vocals
Louise Clare Marshall: Backing Vocals
Bryan Chambers: Backing Vocals
Lucita Jules: Backing Vocals
Setlist:
Set 1:
01. 5 A.M.
02. Rattle That Lock
03. Faces of Stone
04. Wish You Were Here
05. What Do You Want From Me
06. A Boat Lies Waiting
07. The Blue
08. Money
09. Us and Them
10. In Any Tongue
11. High Hopes
Set 2:
12. Astronomy Dominé
13. Shine On You Crazy Diamond
14. Fat Old Sun
15. Coming Back To Life
16. On An Island
17. The Girl In the Yellow Dress
18. Today
19. Sorrow
20. Run Like Hell
Zugaben:
21. Time
22. Breathe (Reprise)
23. Comfortably Numb