Andy Jackson veröffentlicht neues Album "Signal To Noise"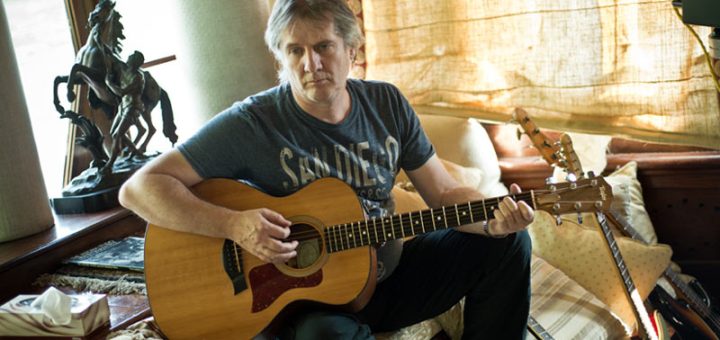 Andy Jackson veröffentlicht im November ein neues Album. Es trägt den Titel "Signal To Noise" und wird als wunderbares Klangerlebnis moderner Progressive Musik beschrieben. "Signal to Noise" wird am Montag, 3. November 2014 sowohl als Single-CD-Edition und eine Doppel-CD Digipack Deluxe Limited Edition mit einem 5.1 Surround Mix veröffentlicht.
Andy Jackson: "The album reflects on the sorting of what is important in life from the humdrum of everyday existence, and is in itself an analogy for the process of the creation of the album."
ANDY JACKSON: "Signal to Noise"
Esoteric Antenna EANTCD 1040 (single CD edition) / Esoteric Antenna EANTCD 21041
(Limited edition 2 disc digipack set with 5.1 Surround Sound Mix)
Released: 3rd November 2014
1. The Boy in the Forest
2. One More Push
3. Invisible Colours
4. Spray Paint
5. Herman at the Fountain
6. It All Came Crashing Down
7. Brownian Motion
Seine Karriere begann bei Utopia Studios in London. Ausgebildet wurde er damals von James Guthrie. Bis heute sind beiden, als das Duo des Pink Floyd Sound´s in engen Kontakt. Als Toningenieur bei Utopia feierte Jackson schöne Erfolge mit Hits von den Boomtown Rats ""I Don't Like Mondays" und Spandau Ballet´s "Chant No One". Als dann 1981 der Anruf von James Guthrie kam, ob er ihm in die Welt von Pink Floyd folgen wolle, um bei den Liveaufnahmen der The Wall Shows im Earls Court mitzuarbeiten, konnte er dem Angebot nicht widerstehen. Jackson der selbst Pink Floyd-Fan war und sie zum ersten Mal 1974 im Wembley Empire Pool in London Live gesehen!
So begann eine Beziehung, die bis heute andauert und Alben wie "The Final Cut", "A Momentary Lapse of Reason", "The Division Bell", "Pulse", Roger Waters 'The Pros and Cons of Hitchhiking", David Gilmour "About Face", "On an Island" und "Live in Gdansk" umfasst. Er erhielt zwei Grammy-Nominierungen und einen Award vom Mix-Magazine für den besten Live-Toningenieur für die "The Division Bell" Tour. Er ist auch Toningenieur und Co-Produzent des noch nicht veröffentlichten 15. Pink Floyd Album "The Endless River".
Hier eine unvollständige Auflistung von Andy Jackson´s Aktivitäten im Studio und Live in Concert:
Andy Jackson – Studio:
1982 Pink Floyd – The Wall Film Soundtrack
1983 Pink Floyd – The Final Cut
1984 David Gilmour – About Face
1984 Roger Waters – Pros And Cons Of Hitch Hiking
1985 Dream Academy, von David Gilmour produziert.
1986 Liona Boyd – Persona, David Gilmour spielt drei Songs auf dem Album.
1987 Pink Floyd – A Momentary Lapse Of Reason
1989 Pink Floyd – Delicate Sound Of Thunder
1990 Fields Of The Nephilim – Elizium, aufgenommen im Astoria!
1990 Warren Zevon, David Gilmour bei dem Song Transverse City.
1994 Pink Floyd – The Division Bell
1995 Pink Floyd – Pulse
2001 Syd Barrett – Wouldn't You Miss Me?
2006 David Gilmour – On An Island
2007 David Gilmour – Remember That Night DVD
2009 The Eden House – Smoke & Mirrors
2014 Pink Floyd – The Division Bell 5.1 Mix
2014 Pink Floyd – The Endless River
Andy Jackson – Live:
1981 Pink Floyd The Wall Tour
1984 David Gilmour, About Face, London Hammersmith Odeon, Livevideo
1984 Roger Waters, Pros And Cons Tour
1985 Roger Waters, Pros And Cons Tour
1990 Pink Floyd, Knebworth
1990 Fields Of The Nephilim
1991 David Gilmour, Amnesty International Konzert
1993 Pink Floyd, Cowdray Ruins
1994 Pink Floyd, The Division Bell Worldtour
1996 David Gilmour, Concert For The Dalai Lama
2001 David Gilmour, Meltdown Festival, London
Ich haben 2001 ein Interview mit Andy Jackson geführt, anlässlich seines Albums Obvious. Zuletzt getroffen habe ich ihn bei der "Remember That Night" DVD Premiere in London, als er im Übertragungswagen saß und sich gerne für einen Moment zu mir gesellte.
Wir danken Vicky Powell from Esoteric Recordings!