Nick Cave & The Bad Seeds 1.11.2017 Wien Stadthalle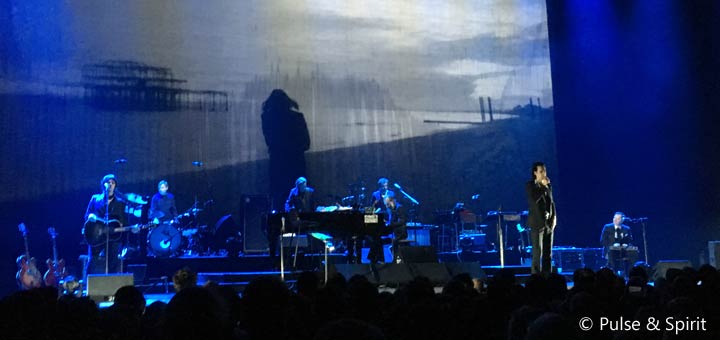 Es ist mittlerweile 21 Jahren her seit meinem ersten Nick Cave & The Bad Seeds Konzert, das ich im Juli 1996 in Wiesen staunend mitverfolgte. Seither habe ich ihn fünf weitere Male gesehen. Zuletzt im November 2013 in München. Die vierjährige Wartezeit endete gestern mit einem fulminanten Auftritt von Nick Cave und den Bad Seeds in der Wiener Stadthalle! In diesen vier Jahren ist viel passiert. Denn Cave durchlebt mit seiner Familie, seit jenem Tag im Sommer 2015, als sein 15jähriger Sohn Arthur bei einem Sturz von den Kreideklippen in Brighton zu Tode kam, eine schlimme Tragödie. Die Songs seines aktuellen Album "Skeleton Tree", das ein Jahr danach raus kam, stehen daher ganz im Zeichen der Trauer um seinen Sohn. Die Konzerte dieser Tour sind wie ein explosiver Trauergottesdienst!
Mich haben sie berührt, diese Songs voller Traurigkeit, Wut und Liebe. Ich will mehr davon und bin sicher wieder dabei wenn Nick Cave um die Ecke biegt. Vielleicht auch einmal bei einem David Gilmour Konzert, wenn dieser ihn zu "Comfortably Numb" auf die Bühne holt. Gilmour macht keinen Hehl daraus, dass er Cave als Gast haben möchte! Ich traf Cave 2015 in der Royal Albert Hall, als Gilmour spielte. Wir werden sehen was die Zukunft noch bringen wird.
Henning schrieb einen sehr schönen Bericht über Cave's Auftritt in Berlin: Licht ins düstere Antrophozän.
Nick Cave & The Bad Seeds 1.11.2017 Wien Stadthalle
Statistik:
Tour: Skeleton Tree
Spielstätte: Stadthalle, Halle D
Kapazität: 12.000 Besucher
Adresse: Roland-Rainer-Platz 1, 1150 Wien
Einlass: 18:30h, Beginn: 20:10h, Ende: 22:30h
Kein Support
Ticketpreise: €55 bis €80
Veranstalter: Barracuda Music
Band:
Nick Cave: Piano, Vocals
Warren Ellis: Violine, Piano, Guitar, Bouzouki, Mandoline
Martyn Casey: Bass
Thomas Wydler: Schlagzeug, Perkussion
Jim Sclavunos: Schlagzeug, Perkussion, Gesang, Orgel
Conway Savage: Piano, Gesang, Orgel
George Vjestica: Guitar, Vocals
Setlist:
01. First Journey
02. Anthrocene
03. Jesus Alone
04. Magneto
05. Higgs Boson Blues
06. From Her to Eternity
07. Tupelo
08. Jubilee Street
09. The Ship Song
10. Into My Arms
11. Girl in Amber
12. I Need You
13. Red Right Hand
14. Mercy Seat
15. Distant Sky
16. Skeleton Tree
Zugaben:
17. The Weeping Song
18. Stagger Lee
19. Push the Sky Away