David Gilmour sah seinen "Live at Pompeii" Film im Kino in Brighton!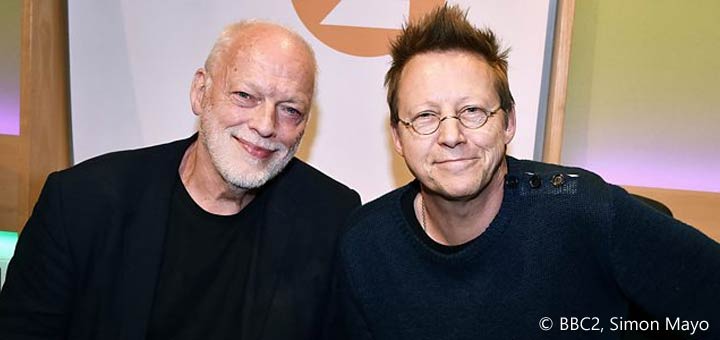 David Gilmour besuchte gestern das Radiostudio der BBC um mit Moderator Simon Mayo über seine neueste Veröffentlichung "Live at Pompeii" zu sprechen! Pink Floyd legend David Gilmour chats to Simon about his new concert DVD 'Live At Pompeii', which was the first show to be performed in front of a live audience since the gladiators in 79AD!
Interessant fand ich Gilmour's Aussage, dass er und sein Team eigentlich im Sinn hatten, mehr, als die knapp 3.000 Besucher, die erlaubt waren, zum Konzert ins Amphitheater hinein zulassen.
David Gilmour: We wanted to let more People in. But they said we haven't dug out all the seating and restored it, so we could only bring in under 3.000 people but they had to be just under the floor and not up the sides.
Gilmour gefällt es, dass die Fans in Italien bei den Liedern lautstark mitsingen und das obwohl sie möglicherweise gar kein Englisch sprechen können! Vielleicht auch eine Erklärung dafür weshalb er in Italien verhältnismäßig viele Konzerte spielt.
David Gilmour: Am 13. September, als der Film in 2.500 Kinos weltweit gezeigt wurde, sah ich mir den Film mit Polly und einigen Freunden in unserem Kino in Brighton an. Das war schon etwas ganz besonderes zu Wissen ein Teil dessen gewesen zu sein, dass in diesem Moment viele andere, überall auf der Welt sich auch ansehen.
Zum Schluss fragte ihn Mayo ob er denn an neuen Songs arbeitet und wir in der Zukunft noch mehr von ihm erwarten dürfen!
David Gilmour: I'm writing. I haven't been back in Studio and thinking about where I gonna take things and what I gonna do next. But I've got quiet a bit of Material and Songs leftover from the sessions that this album came out. I got things to get started.
Er will sich bemühen, dass er für sein nächstes Album nicht wieder 10 Jahre benötigt! Davon gehen wir alle aus! Er wird doch nicht bis zu seinem 80er damit warten wollen! So gut wie er jetzt in Form ist sollte er in ein zwei Jahren soweit sein! Und dann nichts wie raus mit Album und losgeht es mit der nächsten Tour!
Das Interview ist noch online abrufbar. Unter folgenden Link seid ihr dabei: BBC2 Simon Mayo – David Gilmour (ab 1:08:00 kommt er zu Wort).
Nebenbei erwähnt, Gilmour besuchte vor ein paar tagen das Konzert von Nick Cave in der O2 Arena in London!