Roger Waters 9.5.2008 Artafe Cambo De Futbol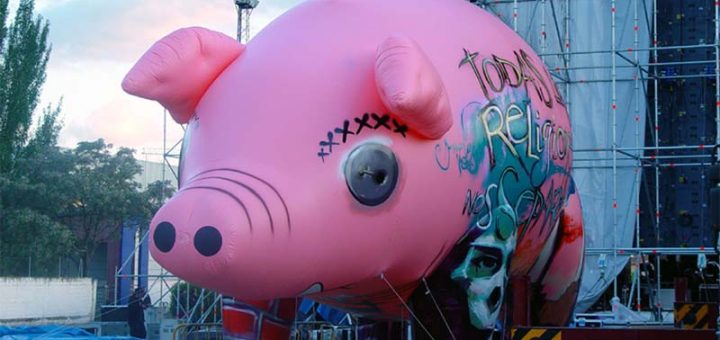 Konzertbericht und Fotos von Renate Schneider (Snowy White Fanclub)

Schon beim ersten Song gab es eine akustische Panne. Außerdem war der Astronaut kurz auf der Bühne sichtbar und hat dann wohl auch seinen Auftritt abgebrochen. Es regnete, regnete, das war sicher der Grund, dass das Schwein nicht wirklich schwebte, eher durch die Hände der Zuschauer weiter kam.
Zurück zum 2. Teil, der praktisch trocken absolviert wurde. Doch das Prisma vermisste ich am Ende sehr. Alle waren sensationeller Laune, auf der Bühne, hinter der Bühne und vor der Bühne herrschte sensationell heitere Stimmung.
Set 1:
01. In The Flesh
02. Mother
03. Set The Controls For the Heart Of The Sun
04. Shine On You Crazy Diamond Pt.1-5
05. Have A Cigar
06. Wish You Were Here
07. Southampton Dock
08. The Fletcher Memorial Home
09. Perfect Sense Pt.1+2
10. Leaving Beirut** new
11. Sheep
Set 2:
12. Speak To Me
13. Breathe
14. On The Run
15. Time
16. Breathe Reprise
17. The Great Gig In The Sky
18. Money
19. Us And Them
20. Any Colour You Like
21. Brain Damage
22. Eclipse
Encores:
23. The Happiest Days Of Our Lives
24. Another Brick In The Wall Pt.2
25. Vera
26. Bring the Boys back Home
27. Comfortably Numb
Ich möchte mich ganz herzlich bei Renate Schneider für die Fotos und den Bericht bedanken!