Ron Geesin The Journey of a Melody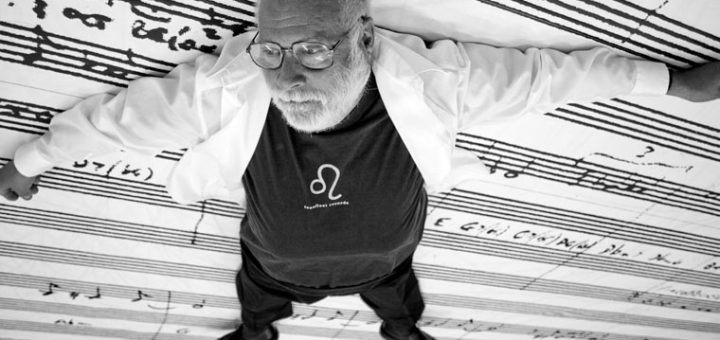 Ron Geesin Soundkünstler und Multiinstrumentalist, ist uns bekannt wegen seiner Mitarbeit an Pink Floyds "Atom Heart Mother" Album 1970. Am 7. März 2011 veröffentlicht Ron Geesin nach längerer Pause wieder ein Album. Der Titel "Roncycle1: The Journey Of A Melody". Der 1943 geborene Ron Geesin veröffentlichte 1967 sein erstes Album "A raise of eyebrows" und startete sein eigenes Label Headscope, eines der ersten Ein-Mann-Labels überhaupt. Seine Musik beinhaltete witzige Samples und Instrumentenkombinationen und ist deswegen vor Allem in der Psychedelischen Musik anzusiedeln.
1969 arbeitete Geesin mit Roger Waters zusammen an einem Soundtrack für den Film "The Body", in dem es unter Anderem um die Wachstumsgeschwindigkeit von Haaren ging. Dementsprechend handelte es sich bei dem Soundtrack der Beiden um eine sehr psychedelische Mischung aus Körpergeräuschen, Banjo- und Celloklängen sowie Waters Akustikgitarre. Auf der letzten Nummer  spielen auch die anderen Pink Floyd Mitglieder!
2008 fragte Geesin David Gilmour ob er nicht Interesse hätte, "Atom Heart Mother" gemeinsam mit ihm und der italienischen Pink Floyd Tributband "Mun Floyd" live zu spielen. Zur großen Überraschung sagte Gilmour zu. Am 15. Juni 2008 traten sie gemeinsam in Londons Cadogan Hall auf.
2011 veröffentlicht Geesin nach längerer Pause wieder ein Album.
Tonefloat Records: Ron Geesin RonCycle1 Journey of Melody: roncycle1: the journey of a melody, represents one of his most ambitious projects to date. it is an integral suite composed of sixteen pieces – some of them a mere minute short. geesin has himself, in fact, referred to his latest creation as "a monster from the deep". elements and influences from his entire career are passing by the audience's ears, ranging from puristic folk and proto-funk to orchestral meditations and the complex metrics of progressive rock. thanks to a clearly defined narrative, which geesin readily expounds upon in the liner notes, the result has nonetheless turned out entirely coherent.
geesin began work on the album in 1986: "the reason that it has all taken so long is that, as it grew, it frightened me so much that i had to walk away for long periods". working with a variety of compositional approaches and with a little help from edgar allan poe, the music did not develop in a linear fashion, but rather proliferated outward from a handful of creative centres. technical issues meant parts of the work had to be transferred from their original tape to computer and, according to geesin, "the whole digi-structure was becoming overwhelmingly complicated". meeting mark ayres, known for his contribution to the bbc's dr. who, proved to be the solution. ayres took care of final arrangements in his studio, bringing a twenty five year long epic journey to a satisfying end.
RONCYCLE1: THE JOURNEY OF A MELODY
01. Tuning Crystals
02. Under The Heat
03. Agreeable Disagreement
04. a) Low Flight, b) Over The Edge
05. Foggy Forest
06. Chatter Line
07. Whether The Weather
08. Wispy Mist
09. Cellar Fall
10. Radio Fume
11. Presenters? Song
12. Disagreeable Intrusion
13. A Musing
14. Gathering Strands
15. Home, Jimmy
16. Caught
Das Album ist auch als LP erhältlich und kann bei Crazy Diamond vorbestellt werden!
Links:
http://www.rongeesin.com/
http://tonefloatrecords.blogspot.com/