David Gilmour & BoomBox 18.10.2015 London Koko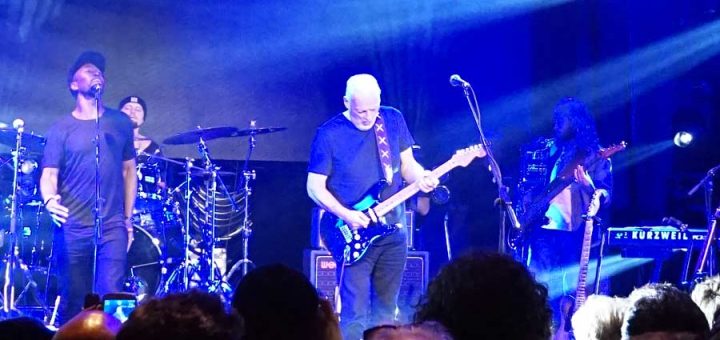 David Gilmour's erster Auftritt im Koko
250 Meter vor dem Koko gab es erste Anzeichen, die auf einen bevorstehenden Auftritt von David Gilmour deuteten. In einem "Pret A Manger" (britische Sandwichkette) sah ich Gilmour's Tourmanager Nick Belshaw, dass ist der, der Gilmour 2006 den Kontakt zu David Bowie herstellte und Barrie Knight, Gilmour's Sicherheitsbeauftragter, wie sie sich beim Essen an einem Tisch unterhielten. Die Uhr zeigte 13:30 Uhr an, als ich das Theater an den zugänglichen Seiten genauer unter die Lupe nahm! Von außen sah das sehr vielversprechend aus! Auf der rechten Gebäudeseite standen Übertragungswagen der BBC, dass Konzert war ab 21 Uhr unserer Zeit im Internet zu sehen! Unser Glück, denn dadurch besitzen wir jetzt einen sehr guten Video- und Audiomitschnitt und das in Mischpultqualität! Phil Taylor war schon wieder fleißig, ich sah wie er gerade durch einen Seiteneingang ins Koko hinein ging. War Gilmour etwa am proben? Ich konnte Gitarrensound heraus hören, es klang aber nicht nach "God's Guitarist"!
The World Is A Big Shithouse
Dass das heute Abend kein normales "Konzert" sein würde, dass war mir klar. Möglicherweise aber nicht allen und speziell denjenigen nicht, die nur wegen Gilmour gekommen waren und den Rest des Programms einfach schnell hinter sich bringen wollten. Veranstaltet wurde der Event vom Free Belarus Theatre und deren Intention, die lag bei den Künstlern oder Aktivisten, die in ihren Herkunftsländern verbannt, eingesperrt oder noch schlimmeres erfuhren.
Das David Gilmour dafür seinen Namen her gab und auftrat, dass gefiel mir gut. In Zeiten wie diesen sollten wir alle sehr aufmerksam sein, die Welt ist in einem miesen Zustand, ein richtiges Shithouse ist es aus ihr geworden und abseits unserer Konsumstraßen lauern Krisen ungeahnten Ausmaßes, die auch uns betreffen. Um so schöner, dass Gilmour sich deklariert und mit anderen Künstlern, die ihre Kunst nicht frei ausüben dürfen, solidarisiert.
Der Einlass war kurz nach 19Uhr. Am Merchandising Stand gab es das offizielle T-Shirt, das einen gestreckten Mittelfinger zeigte, das Design stammt von Ai Weiwei, einem Verbannten, der in China wegen seiner Kunst Reiseverbot hatte, unter Hausarrest stand und im Gefängnis saß. Auf dem Shirt gab es keinen Hinweis der zu David Gilmour führte. Dafür hing im Foyer ein Poster mit den Namen aller Protagonisten des heutigen Abends, also inklusive David Gilmour! Das Poster wurden von mir in Sicherheit gebracht und anschließend gemeinsam mit meiner Jacke an der Garderobe abgegeben!
Durch den Abend führte der Moderator Miles Jupp. Die Veranstaltung begann (und endete) mit einem Trommelwirbel gefolgt von Harold Pinter's Nobelpreisrede, die von den Schauspielern Jeremy Irons und Juliet Stevenson vorgetragen wurde. Danach traten Brutto auf. Die vier muskelbepackten Frontmänner sorgten für Power. Dazu gab es Videos zu sehen, die voller Symbolik und Szenen von Gewalt waren. Ich habe nicht verstanden worum es in den Songs ging, sie sangen in ihrer Landessprache, die Videos deuteten aber eher darauf hin, dass es sich nicht um banale Lovesongs handelte.
Am heftigsten war ohne Zweifel die Performance von Mitgliedern der Free Belarus Theatre Gruppe. Dabei wurde eine Frau nackt ausgezogen und mit schwarzer Farbe bemalt, dazu wurde ein harmlos klingendes weißrussisches Lied gesungen, kann nicht sagen wovon es handelte. Die Szenerie war eindrucksvoll. Auch deswegen, weil die Schauspielerin Kim Cattrall dazu voller Inbrunst einen Text las, den ich auch nicht so ganz verstanden habe, es fielen heftige Worte. Ich glaube, dass es von Zuständen der Diktatur in Weißrussland handelte. Es blieb einigen Besuchern, die nur der guten Musik wegen gekommen waren, der Mund offen stehen!
Das Video der beinamputierten Popsängerin Viktoria Modesta, die in Lettland geboren ist sorgte danach für Aufsehen! Überzeugt euch am besten selbst davon: Prototype! Die Sängerin bewies in ihrer anschließenden Rede, dass schöne Sängerinnen nicht dem typischen Klischee entsprechen müssen. Sie endete mit den Worten, dass es gut und schön sei, dass so viele gekommen waren, auch wenn viele Pink Floyd Fans darunter seien, die möglicherweise "nur" wegen dem Musiker, der anschließend auftreten wird, gekommen waren!
David Gilmour & BoomBox
Ich rechnete mit ein zwei Songs von Gilmour. Das er am Ende vier spielte und darunter "Astronomy Domine" und "In Any Tongue" waren, dass hat mich sehr überrascht. Gilmour hatte von seiner "Rattle That Lock" Band Jon Carin und Bryan Chambers dabei. Die größte Überraschung war natürlich, dass gemeinsame auftreten mit der ukrainischen Band BoomBox!
In Any Tongue
"In Any Tongue" muss ich herausheben! Gilmour's Solo war großartig! Ich hatte Gänsehaut während er diese Noten, diese Riffs spielte! Sein Solo war ganz leicht verändert! Der Sound seiner Gitarre war mächtig und schien mir für das kleine Theater beinahe schon zu dominant! Colin Norfield sorgte am Mischpult für eine tolle Beschallung! Danach spielte Carin bei "Wish You Were Here" die einleitende Akustikgitarre. Nach diesem Song stellte Gilmour die Musiker auf der Bühne vor. Der Sänger von BoomBox hat es leider nicht bis nach England geschafft, weil er, wie Gilmour berichtete, aus "irgendwelchen" Gründen kein Visum für diesen Auftritt erhielt!
Chor
Von meiner Position sah ich Polly, Sara und Charlie Gilmour, die ganz rechts auf der Bühne standen und begeistert zur Musik tanzten! Gilmour kündigte schließlich den Song "Rattle That Lock" mit den Worten an, dass auch wir, die in vermeintlicher Sicherheit leben, an den Schlössern der Macht rütteln sollten. Dann bat er seinen Chor auf die Bühne! Darunter war seine "halbe" Familie. Polly, Sara, Charlie, Gabriel, der Leibwächter Barrie Knight und selbstverständlich Bryan Chambers, der einzige der wirklich singen konnte. Außerdem sangen Jon Carin's Frau Brie und Sara Gilmour's Freund Gus Robertson, der in der Band "Razorlight" spielt, mit! Auf alle Fälle war das wieder eine dieser besonderen Überraschungen!
Der Chor war natürlich der Blickfang. Es machte großen Spaß Polly und Co. beim Singen zu beobachten! Denn nicht jeder Ton passte, Barrie Knight, der Charlie umarmt hielt, sang an einer Stelle an der es nichts zu singen gab! Sie alle hatten ihre Freude daran und auch Carin, der dem Chor gegenüber Gitarre spielte, musste fortwährend schmunzeln. Wieder kam mir das Solo, das Gilmour spielte, leicht verändert vor. Natürlich nur Kleinigkeiten aber doch so das es mir auffiel. Vielleicht ist das aber auch alles bloße Einbildung meinerseits! Und weil Polly wegen ihres Einsatzes im Chor keine Zeit zum fotografieren hatte, durfte Jill Furmanovsky von ganz vorne mit ihren Kameras werken. Ich habe sie auch in der Royal Albert Hall mit zwei, drei umgehängten Kameras gesehen.
Die Stimmung im Publikum während Gilmour spielte war hervorragend. Viele trugen wie ich ein Gilmour T-Shirt seiner aktuellen Tour. Viele waren bestimmt nur wegen ihm heute hier!
Staging A Revolution – I'm with the Banned
Spielstätte: Koko (ehemals Camden Palace), London, 1900 erbaut.
Kapazität: 2.400, ausverkauft
Adresse: 1A Camden High Street, London, NW1 7JE
Web: www.koko.uk.com
Ticketpreise: 28 €
Einlass/Beginn: 19h/20h
Line Up:
David Gilmour & BoomBox (mit Jon Carin und Bryan Chambers, bei Rattle That Lock sangen Polly Samson, Gabriel, Charlie und Sara Gilmour, Brie Carin, Gus Robertson und Barrie Knight)
Viktoria Modesta (Video, Rede)
Kim Cattrall & Members Of Belarus Free Theatre (Performance)
Nadezhda Tolokonnikova (von Pussy Riot hielt Rede)
Brutto & Kenwyn House (Band aus Weißrussland)
Nikolai Khalezin & Neil Tennant (Pet Shop Boys, Lesung)
Jeremy Irons & Juliet Stevenson (Lesung aus der Nobelpreisrede von Harold Pinter)
DJ Laurel & DJ Andy Smith (Portishead)
Setlist:
01. Astronomy Domine 3:30
02. In Any Tongue 7:01
03. Wish You Were Here 5:07
04. Rattle That Lock 5:20
Boombox:
Andriy Khlyvnyuk – vocals, lyrics (erhielt kein Visum)
Andriy Samoilov – guitar
Valentin Matiyuk – Keyboard
Denis Levchenko – bass guitar
Olexandr Lyulyakin – drums
Jon Carin: Keyboards, Guitar, Vocals
Bryan Chambers: Vocals
Polly Samson: Vocals (Rattle That Lock)
Charlie Gilmour: Vocals (Rattle That Lock)
Sara Gilmour: Vocals (Rattle That Lock)
Gabriel Gilmour: Vocals (Rattle That Lock)
Brie Carin: Vocals (Rattle That Lock)
Gus Robertson: Vocals (Rattle That Lock)
Barrie Knight: Vocals (Rattle That Lock)
Abschließend kann ich nur sagen, dass Gilmour wieder zurück in die 1000er Theater, Arenen und Säle sollte! Es war toll ihn so Nahe vor mir zu sehen. Er war gut drauf, schön locker. Sein Gitarrensound war so richtig fett, geil, erdig und rockte, wenn ich es mit ein paar Fachausdrücken beschreiben soll!
Weiterführende links:
Fotos: David Gilmour, 'I'm With The Banned'
BBC Livestream: Wish You Were Here
www.belarusfreetheatre.com
Videoclip: Viktoria Modesta – Prototype