Wie Chuck Sanzone's Gitarre David Gilmour erreichte!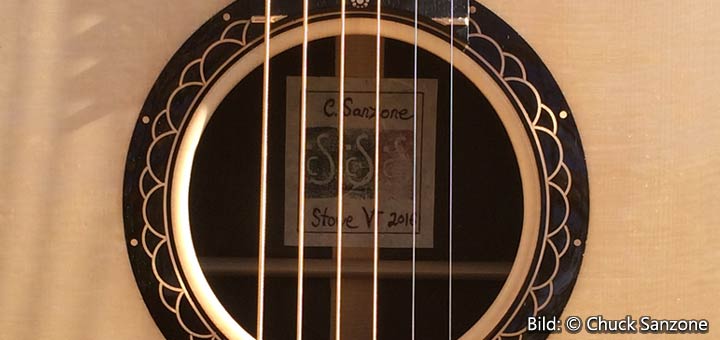 Wie klein die Welt sein kann bewies mir meine Recherche über eine Gitarre, die David Gilmour dieses Jahr zu seinem Geburtstag von Polly geschenkt bekam! Sie postete davon Fotos auf Instagram. Unter den zahlreichen Kommentaren fiel mir der von "the luthiers wife" auf, die geschrieben hatte das ihr Ehemann die Gitarre gebaut hat!
"My husband @sanzoneguitarandmandolin made that guitar!!!! I can hardly believe it! I hope you love it David❤️😀👍 Happy Birthday!!!!!!!!!"
Die Freude war spürbar, dass die Gitarre des Ehemanns in den Besitz eines so Prominenten Gitarristen wechselte! Dieser ehrlichen Euphorie wollte ich nachgehen und mehr über die Sanzone Gitarren & Mandolinen herausfinden! Ich begann mit der Suche nach einer offiziellen Webseite und stieß schnell auf "SANZONE GUITARS & MANDOLIN". Dort erfuhr ich, dass der Gitarrenbauer Chuck Sanzone hieß und in den USA im schönen Waldreichen Vermont beheimatet ist!
Okay, also frage ich Herrn Sanzone, neugierig wie ich bin, wie es dazu kam, dass ausgerechnet Gilmour eine seiner Gitarren als Geburtstagsgeschenk erhielt! Vielleicht ist Chuck Sanzone ein Begriff unter den Gitarrenbauer? Also schickte ich ihm eine E-Mail Nachricht! Am nächsten Tag freute ich mich über seine rasche Antwort und ich stellte ihm in meiner Antwort einige Fragen! Vier bis Sechs Instrumente baut Chuck im Jahr! Jede davon mit Liebe zum Detail hergestellt!
Chuck Sanzone über seine Gitarre für David Gilmour
Pulse & Spirit: Was it David Gilmour himself or his Wife Polly who ordered the guitar? Did you know in advance who the guitar was for?
Chuck Sanzone: This special instrument was a commission for jeweller Robin Renzi of New York, built in late 2015 to commemorate her 25th year in business. It has 10k gold inlay that she designed, very classy and elegant. I used some of my finest woods and I love how it turned out, sonically and aesthetically. The guitar was for sale in her Soho store, and also online. Polly Samson ordered the guitar, and we were told it was for someone's birthday. So initially we thought David was buying it to give as a gift.
How was your reaction when you know for whom you built the instrument?
Chuck Sanzone: I had to sit down for a minute when I heard this news. Polly was kind enough to post a picture of him playing it on social media. My wife was hooting and hollering, literally jumping up and down. It was a good day for sure, I was just floored by the whole thing. Probably took a week for it to sink in!
Excuse my ignorance but how did they come up with "Sanzone Guitar & Mandolin"? Are you known among the instrument makers? Are there other well known artists who playing your instruments?
Chuck Sanzone: We are certainly living in a golden age of lutherie, with many incredible makers pushing the envelope of creativity. 25 years ago, I discovered the art of lutherie and have not looked back. I am known for creating one-of-a-kind functional art, inspired by the timeless designs of the first half of the 20th. century. I make all types of instruments, completely by hand in the tradition of the old masters. I love what I do, and put all of my soul in each creation. Some of the performers that play Sanzone include: Stuart Cowell of Titus Groan (electric hollow body), Fred Rogers of Copperplate (bouzouki, classical guitar), John Colfer (mandolins, archtop guitar), Phil Knudsen (6/12 string guitar, terz guitar), and John Stafford of the Up$lopers (electric hollow body)
What kind of guitar did you build for Gilmour?
Chuck Sanzone: David's guitar is a copy of a priceless 1929 Martin 000, owned by a good customer of mine. This instrument features some incredible wood: presentation-grade burled African Blackwood for the body, and aged European spruce for the soundboard. The neck is made from European maple from a cello supplier. The internal bracing was salvaged from an antique piano, beautiful old-growth Adirondack spruce not available in the world today. This guitar has a lush, lyrical sound that rings out beautifully. African Blackwood is known for creating a haunting, reverberant tone, that would suit David's playing quite well I think!
Where exactly do you make the instruments! Is your workshop also your living space?

Chuck Sanzone: We live in an old farmhouse in the mountains of northern Vermont. On our property is the original schoolhouse that served the region 150 years ago, when it was a tiny community supported by logging. This magical place, complete with chalkboard and school benches, is my workshop. I work by myself, making 4-6 instruments a year. It's an inspiring location, rich with positive vibrations. I encourage clients to visit, discuss the project in person, pick out their tonewood and soak up the natural beauty of Vermont.
How do you send such a valuable and fragile product?
Chuck Sanzone: Shipping a guitar safely involves a purpose-made box with inserts that suspend the guitar in a way that provides a 6cm cushion on all sides. I also seal the case to regulate the climate and provide a hygrometer to monitor the humidity and temperature during it's journey. Like any valuable object, insurance must be taken out in case of damage.
Who knows maybe Gilmour uses your Guitar when he records his next Album!
Chuck Sanzone: That thought had crossed my mind, and it surely would be incredible! Honestly, just knowing that he owns and plays a guitar I made with my own hands is beyond my wildest dreams. I am so humbled by the experience and honoured to play a small part in David's creative process.
Are you a Fan of Pink Floyd and Gilmour's Music?
Chuck Sanzone: I am a lifelong fan of both Pink Floyd and David Gilmour. We still listen to the Floyd records on vinyl. His style of playing has always really resonated with me, especially how he leaves space in his phrasing to elicit so much emotion. Personally, I think the solo in comfortably numb might be the finest guitar solo ever. And, of course, his songwriting has soundtracked some important moments in my life. A few years ago, I fell off a large cliff while backcountry skiing here in Vermont. The calmness of David's music helped me recover and accept what had happened, and to use this experience to gain perspective on the beauty of life. Sounds corny but it's true,and I bet you can relate. Peace and good vibes to all!
Man stelle sich vor, nur vier bis sechs Instrumente baut Chuck im Jahr! Die Stückzahl offenbart seine Herangehensweise und Philosophie des Instrumentenbaus! Besucht seine Webseite: Sanzone Guitars & Mandolin.
I want to thank Chuck, a true artist craftsman for his kindness! Keep on rockin! Fotos von Chuck Sanzone!