Classic-Rock Briefmarken Satz: Pink Floyd The Division Bell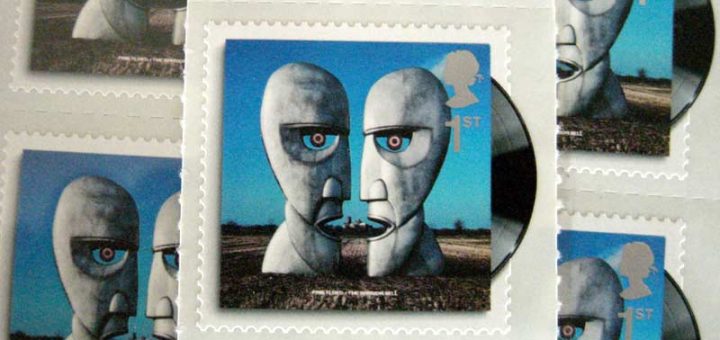 Die "Royal Mail" entschloss sich eine Serie mit "Classic-UK-Album-Cover-Designs" zu veröffentlichen. Und mit dabei das 1994 UK Nummer 1 Album von Pink Floyd The Division Bell, welches weltweit bisher mehr als 10 Millionen Kopien verkaufte. Das Cover wurde designed von Storm Thorgerson und Keith Breeden, es zeigt zwei überdimensionierte Köpfe, entworfen wurden die Skulpturen von John Robertson. Die Köpfe sollen auf das Thema des Albums hinweisen, welches Kommunikation lautete. (Quelle: nme)
Seit dem 7. Januar 2010 ist die "The Division Bell" Marke erhältlich sein!
Die Classic-Rock-Alben-Briefmarken der Royal Mail sind:
Pink Floyd – The Division Bell
Coldplay – A Rush Of Blood To The Head
Blur – Parklife
New Order – Power, Corruption And Lies
Rolling Stones – Let It Bleed
The Clash – London Calling
Mike Oldfield – Tubular Bells
Led Zeppelin – IV
Primal Scream – Screamadelica
David Bowie – The Rise And Fall Of Ziggy Stardust And The Spiders From Mars
Royal Mail and Pink Floyd have teamed up to produce a unique souvenir stamp product featuring the band's final studio album, The Division Bell. Issued on David Gilmour's birthday, the sheet's design mimics a vinyl album cover and features ten of the 1st Class The Division Bell stamps, printed on one gummed sheet, with each stamp individually perforated. The sheet also contains the lyrics of 'High Hopes', along with a Pink Floyd emblem against a background of the astonishing metal heads which featured on the record's cover.
Info von Jane Hall