50th Anniversary: Pink Floyd Back To Piper Club
PIPER CLUB presents: "PINK FLOYD 50th ANNIVERSARY – BACK TO PIPER CLUB".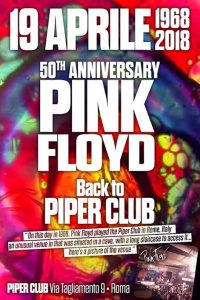 A unique event, a concert and a PINK FLOYD exhibition to celebrate their first performance in Italy back in 1968 at the Piper Club in Rome.
"Four great unknowns, Roger Waters, Rick Wright and Nick Mason, with David Gilmour's wierd elegance to fill a little the empty space left by Syd Barrett – whose crazy sheen was well sadly blown up, seize a young standing audience, almost unaware of the event and yet electrically engaged. Orbiting between the resonances and the sonic chiaroscuros drawn by five outstanding musicians, 50 years later on the same stage and supported by "The Lunatics" crew, the rarefied atmospheres and visions that defined the historic gig at the Piper Club renew themselves in a show made up of powerful and vibrant sounds. Come over lighthearted. Have a nice trip. See you at the gates of dawn, for a psychedelic breakfast!" (Claire Lyndon)
LIVE: "EUGENE & THE PINK FLOYD SOUND"
Eugene (vocals and keyboards), Giacomo Anselmi (guitars, vocals), Giovanni Di Caprio (guitars), Fabio Fraschini (bass guitar), Giovanni Gregori (drums)
Exhibition curated by "THE LUNATICS".
Tickets available on www.piperclub.it * www.eventipiper.it * www.ciaotickets.com and any sales point member of Ciaotickets sales channel.
PIPER CLUB, Via Tagliamento 9, Roma.
Info from Stefano Traquini!