Neil Young 17.8.2008 Wiesen Lovely Days Festival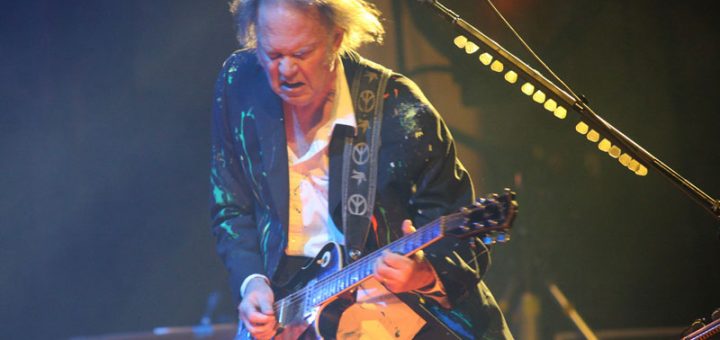 Wiesen ist nicht gerade meine favorisierte Konzertbühne. Es liegt für einen Oberösterreicher einfach zu abgelegen, weit weg von zuhause, im schönen Burgenland. Die Location an sich ist schön, da gibt es gar nichts zu bemängeln, es geht mir einfach um die 285 Kilometer hin und zurück. Das schlägt sich schon auf meine Knochen. Aufgrund fehlender Open Air Locations in Österreich bin ich aber schon einige male in Wiesen gewesen, wenn denn einer meiner Lieblingsmusiker hier gespielt hat. So sah ich hier: 1996 Nick Cave & The Bad Seeds, The Dirty Tree, Toten Hosen, Skunk Anansie, Die Fantastischen Vier, 1998 The Cure, Pulp, 2001 Neil Young & Crazy Horse und 2002 Roger Waters! Wer weiß vielleicht spielt Gilmour 2009 oder 2010 auch hier, dann werde ich mich bestimmt wieder auf die Reise machen!
Ich wollte ein paar Fotos machen, als aber bereits nachdem ersten Versuch, dass Display "Schwache Batterien" anzeigte und sich anschließend abschaletet, fand dieses Vorhaben ein schnelles Ende! Wie ihr sehen könnt, habe ich trotzdem tolle Fotos für diesen Bericht, tausendmal besser als meine je geworden wären!
6.000 Fans warteten schon ungeduldig, als Neil Young gegen 21:30 Uhr begleitet von seiner Band die Bühne betrat. Er begann gleich mit einem Fulminaten "Love And Only Love". In dieser Tonart ging die nächsten 60 Minuten weiter. Auf meiner Wunschliste ganz oben für den heutigen Abend standen "Cortez The Killer" und "Fuckin Up"! Ich konnte es kaum glauben, dass mir Neil Young tatsächlich meine Wünsche erfüllte und beide Songs gleich hintereinander spielte! Außerdem spielte er heute mit "Just Singing A Song Won't Change The World" und "See Change" zwei bisher unveröffentlichte Songs. Gegen Ende des Konzerts wieder absolute Höhepunkte mit einem sehr sehr langen "Cowgirl In The Sand". "Rockin' In The Free World" wurde von Young mit einem interessanten Intro eingeleitet, der ganze Song schien mir etwas abgeändert und endete elegant brachial. Als Zugabe gab es noch die Beatles Coverversion "A Day In The Life".
Neil Young & Electric Band
Wiesen "Lovely Days Festival" 17.8.2008
Bands: The Watersboys, Adam Green, Wishbone Ash, Hans Thessinkk Band
Neil Young & Eletric Band:
Neil Young – Gitarre, Harmonika, Orgel, vocals
Ben Keith – pedal steel, lap steel, guitar, organ, background vocals
Rick Rosas – bass
Chad Cromwell – drums
Pegi Young – background vocals, vibraphone, piano, guitar (Neils Frau)
Anthony Crawford – background vocals, piano, guitar, bells
Larry Cragg – banjo
Songliste:
01. Love and Only Love
02. Hey Hey, My My
03. Everybody Knows This Is Nowhere
04. Powderfinger
05. Spirit Road
06. Cortez The Killer
07. Fuckin' Up
08. Helpless (akustik)
09. Mother Earth
10. The Needle And The Damage Done
11. Unknown Legend
12. Heart Of Gold
13. Old Man
14. Get Back To The Country
15. Just Singing A Song Won't Change The World **
16. See Change **
17. Cowgirl In The Sand
18. Rockin' In The Free World
–Zugabe–
19. A Day In The Life
** neuer Song
Neil Young hatte sichtlich großen Spaß heute. Die Musiker waren stets zu Scherzen aufgelegt und hatte ihre Freude daran sich gegenseitig zu huldigen! Die Stimmung im Publikum war großartig, viele sangen mit, andere, so wie ich, bewegten sich so gut sie konnten zur Musik, keiner ging oder fuhr traurig nachhause!