40 Jahre Jubiläumsausgabe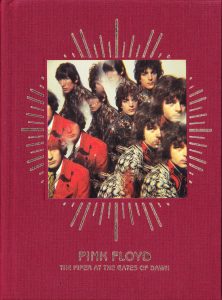 Special Edition of Pink Floyd's 'The Piper at the Gates of Dawn' Featuring Three Previously Unreleased Tracks Now Released on 3 September 2007
While searching the EMI and Abbey Rd archives for the original master tapes to be used in this release, it became clear that the producers had unearthed some previously unreleased versions of tracks from the 'Piper' sessions. In order to allow thee rare and previously unreleased new versions to be included on this special anniversary edition, it has been necessary to move the album release date back 1 week.
As previously reported the 40th anniversary release is newly remastered by James Guthrie from the original recordings, with Discs 1 and 2 containing the full 'Piper' album, represented in both stereo and mono versions. Disc 3 includes bonus tracks, including the following: all the Pink Floyd singles from 1967, ('Arnold Layne', 'See Emily Play', and 'Apples And Oranges'), plus the B-sides 'Candy And A Current Bun' and 'Paintbox' as well as previously unissued versions of 'Matilda Mother', 'Apples And Oranges' (1967 stereo version) and two rare edits of 'Interstellar Overdrive', one previously only available on an EP in France (French Edit) and take six of the track from the original recording sessions discovered in the EMI archive.
When the re-mastering of this groundbreaking album started to come together, a collector loaned EMI a copy of the original French EP, much to the surprise of Guthrie it was a different version of 'Interstellar Overdrive' to what had been supplied from the EMI archive..
JAMES GUTHRIE: "Whereas the French release used the same take as that later used on the album albeit in a shortened and pre-overdubbed form, this version was more structured and clearly not from the same take. The tape box information was emphatic this was the French edit. The 40 year old job files were pulled and only confirmed the same information listed on the tape box."
Following investigation into the reason behind this, it was discovered that this version was an unreleased mix from take six of the original session, it also materialised that a different version of 'Matilda Mother' had been recorded – it had the same backing track as the album version, but the verse vocal and lyrics are different.
25.07.2007: Der Spätsommer für uns Pink Floyd Fans eine Menge zu bieten. EMI hat eine 3CD Box und eine 2CD The Piper At The Gates Of Dawn für den 24. August angekündigt!
CD 1 (Stereo) / CD 2 (Mono) – original tracklist
01. Astronomy Domine
02. Lucifer Sam
03. Matilda Mother
04. Flaming
05. Pow R. Toc H.
06. Take Up Thy Stethoscope And Walk
07. Intersteller Overdrive
08. The Gnome
09. Chapter 24
10. Scarecrow
11. Bike
CD 3 (Special Edition Bonus Disc)
01. Arnold Layne
02. Candy And A Currant Bun
03. See Emily Play
04. Apples & Oranges
05. Paintbox
06. Interstellar Overdrive (French Edit)
07. Apples & Oranges (Stereo Version)