Roger Waters erhielt Ehrendoktortitel der American University Of Rome verliehen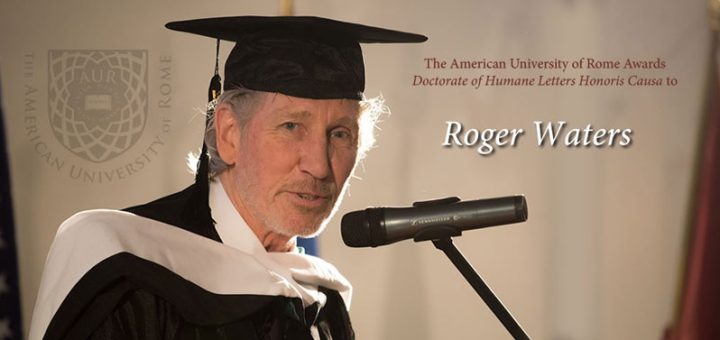 Die vergangene Woche muss für Roger Waters eine emotional sehr bewegend gewesen sein! Waters nahm an den Gedenkveranstaltungen, die in Anzio anlässlich des 70. Jahrestages der Landung der Alliierten und der Schlacht in Anzio, bei der sein Vater Eric Fletcher Waters ums Leben kam, teil. Die Stadt Anzio verlieh ihm die Ehrenbürgerschaft und er enthüllte ein Denkmal, das an seinen Vater und die gefallenen Soldaten, deren Leichen nie gefunden oder nicht identifiziert werden konnten, erinnern soll.
In Rom wurde ihm für seinen Beitrag in der Musik und für sein weltweites soziales Engagement von der "American University Of Rome" die Ehrendoktorwürde verliehen!
Waters wurde begleitet von seiner Frau Laurie Durning und dem Kriegsveteran und engen Freund Harry Shindler. Der 1921 geborene Shindler, der 1944 auch in Anzio kämpfte, war für Waters der Schlüssel, der ihm half die genaue Stelle zu finden an der sein Vater fiel.
In seiner kurzen prägnante Rede zitierte Waters ein kritisches Gedicht, das er 2004 im Lichte der Wiederwahl des ehemaligen US-Präsidenten George W. Bush geschrieben hatte.  Danach ermutigte er die Studenten der American University Of Rome die Welt zu einem besseren Ort, als sie es jetzt ist zu machen!
Mehr über die Zeremonie findet ihr unter folgenden link: American University Rome presents Roger Waters honorary degree
Photo credits: Andrea Cavallini and Michelle Aschbacher.
Info von Martin Geyer und Christian