Pink Floyd Exhibition "Their Mortal Remains" geht fünf Jahre auf Welttournee!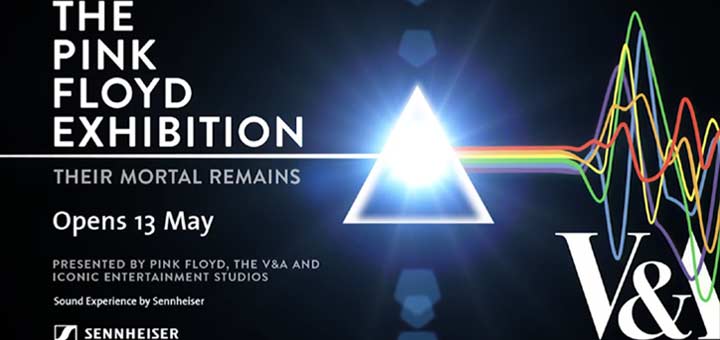 Pink Floyd "Their Mortal Remains" wird die größte Einzelausstellung, die bisher im Victoria & Albert Museum in London zu sehen war! Ich habe das Gefühl unsere Lieblingsband ist an einem ganz speziellen Punkt ihrer Karriere angekommen! Vom Stadionrockkonzert ins Museum!
Am 18. Juni werde ich mit den Sennheiser Kopfhörer durch die Ausstellung schlendern! Für alle die nicht nach London kommen können gibt es gute Nachrichten! MOJO berichtet, dass die Pink Floyd Exhibition nach den fünf Monaten in London, für weitere fünf Jahre auf Welttour sein wird! Bei dem Aufwand, der betrieben wird, kommen ohnehin nur größere Städte wie New York, Los Angeles, Tokyo, Sydney, Paris und Berlin in Frage!
Aubrey Powell's Lieblingsstücke der Ausstellung sind u.a. seltene Fotos von Storm Thorgerson, die er während der Tour 1972 in Amerika von der Band machte.
Aubrey Powell: You realise these guys were best friends, really close. We were all great friends, having a good time together. There was the Pink Floyd football and cricket team, all that. They were on the asent and there were no bad feelings between anybody, and out of that came Dark Side of the Moon. That was the absolute pinnalce, and it shows in the pictures of the time.
Derzeit wird noch fleißig an der Fertigstellung der Exhibition gearbeitet! Gestern zog Scarfe's Lehrer Marionette, die er für Roger Waters The Wall Live Tour designte, ins V&A Museum ein! Foto davon findet ihr hier: The Pink Floyd Exhibition: Their Mortal Remains.