Household Objects: Regal von Syd Barrett versteigert!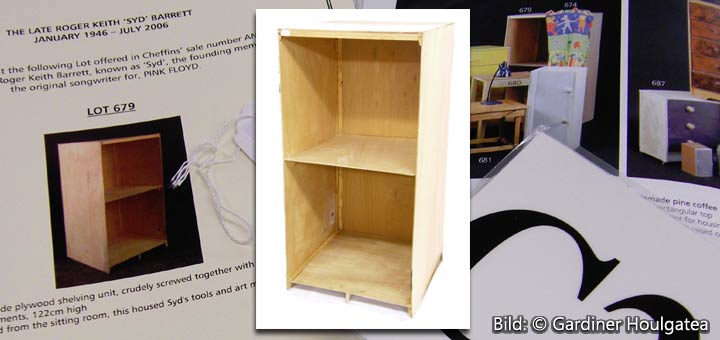 Die Nachricht über die "Gardiner Houlgate Auctions" im englischen Corsham hat mich zum schmunzeln gebracht! Eine Gitarre von Eric Clapton erzielte einen Preis von £25,000! Nicht schlecht! Das Regal von Syd Barrett fand ich aber noch interessanter!
A guitar owned by rock star Eric Clapton – complete with a cigarette burn on the headstock – has sold for £25,000 at auction. Among other items sold was a shelving unit built by former Pink Floyd member Syd Barrett and was saved from his home after his death in 2006. The plywood unit was sold to a buyer in Switzerland for £120.
Lot 318 – Roger Keith 'Syd' Barrett – home-made plywood shelving unit
Das würde mich jetzt interessieren welcher Schweizer sich bei dieser Versteigerung, dass von Barrett höchstpersönlich zusammengebaute Regal, für 120 Pfund kaufte? Muss ein großer Fan gewesen sein? Der Preis schreckt mich nicht. Warum nicht ein Regal von Barrett im Zimmer, wenn die Frau nichts dagegen hat, das Billy Regal von Ikea war wahrscheinlich nicht günstiger! Dann schon lieber das von Syd in das man seine Platten einordnen kann!
Also raus mit der Sprache! Wer hat es gekauft? Lukas, Andi, Thomas, Urs oder Felix? Ist es einer von euch gewesen? 🙂
Quelle: Eric Clapton guitar raises £25,000 at auction
#householdobjects