Jetzt Tickets: David Gilmour Live At Pompeii!
Heute ist es soweit! Die Karten für Gilmour's Konzerte in Pompeji werden ab 13 Uhr zu kaufen sein! Ich drücke allen die Daumen!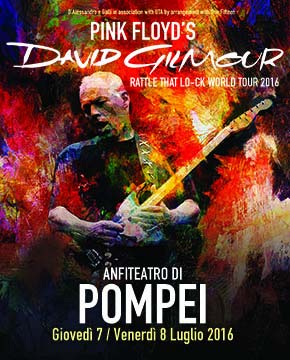 Auf David Gilmour's Website wurden heute erste genauere Details über die beiden Konzerten in Pompeji am 7. und 8. Juli veröffentlicht. So wurde bestätigt, dass Gilmour tatsächlich im Amphitheater auftreten wird!! Also genau dort wo der legendäre Pink Floyd Film von Adrian Maben entstand! Gilmour wird als erster Musiker überhaupt in dieser Arena vor Publikum spielen!
Am Zustandekommen dieser Konzerte hat wohl auch der italienische Kulturminister seinen Anteil gehabt haben, der mit seiner Twitter Meldung, "45 years after the legendary 'Live at Pompeii' David Gilmour will be back performing in a unique, fascinating, beautiful scenario. The myth of Pink Floyd will come back to life with him in Pompeii. It will be a show that can't be missed", die Sensation verkündete. Gilmour dankte es ihm in erster Stellungnahme.
David Gilmour: I want to thank the Ministry of Culture for giving me the opportunity to once again play this beautiful and historic venue. Performing there in 1971 was very special and I'm looking forward to returning and hopefully creating some more memorable moments made even more special by playing to an audience.
Um das zu erwartenden totale Desaster beim Kartenverkauf zu vermeiden, wird ein Teil der Karten über DavidGilmour.com zu kaufen sein! Die Karte kostet 300 € plus 15 % Bearbeitungsgebühr.
Am Dienstag, 22. März um 13.00Uhr CET geht es los! Eine Person darf zwei Tickets für ein Konzert kaufen, nicht für beide!