Roger Waters setzte "Us+Them" Tour in Newark mit neuem Keyboarder fort!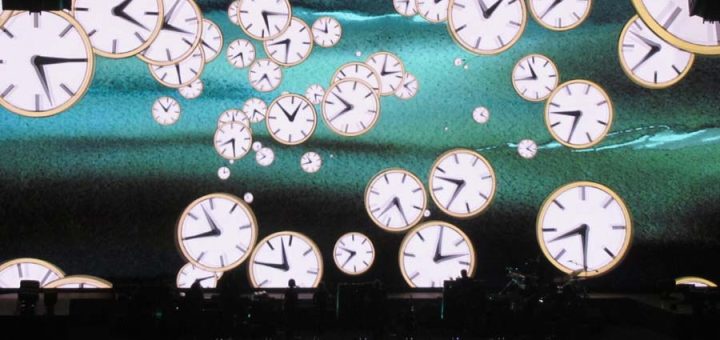 Roger Waters setzte gestern nach dreiwöchiger Pause seine Tour mit dem Konzert in Newark fort. Die Setliste war identisch zu allen anderen Shows, bis auf das in Nashville, als er "Mother" spielte! Es sieht aber nach Änderungen der Setliste aus, denn er spielte beim Soundcheck den neuen Song "Part Of Me Died". "Wait For Her" könnte auch demnächst dran spielen!
Leider hat sich der Keyboarder Drew Erickson kurz vor der Tourpause bei einem Privatunfall verletzt. Er wurde bei den letzten Gigs von der Tourfotografin Kate Izor ersetzt, wie mich der bestens informierte Oliver Thöne Wissen ließ! Gestern in Newark bediente anstatt Frau Izor der "My Morning Jacket" Keyboarder Bos Koster die Tasteninstrumente!
Roger Waters 7.9.2017 Newark Prudential Center
Spielstätte: Multifunktionsarena
Kapazität: 18.000 Besucher
Adresse: 25 Lafayette St, Newark, NJ 07102, USA
Ticketpreise: $55 – $200
Einlass/Beginn: 19h/20h
Band:
Roger Waters: Vocals, Bass, Guitar
Joey Waronker: Drums
Jonathan Wilson: Guitar, Vocals
Gus Seyffert: Guitar, Bass
Dave Kilminster: Guitar
Bo Koster: Hammond Organ, Piano
Jess Wolfe: Vocals, Percussion
Holly Laessig: Vocals, Percussion
Ian Ritchie: Saxophon, Bass
Jon Carin: Keyboards, Guitar, Vocals
Set 1:
01. Speak to Me 0:36
02. Breathe 3:00
03. One of These Days 5:30
04. Time 5:54
05. Breathe (Reprise) 1:16
06. The Great Gig in the Sky 5:04
07. When We Were Young 0:50
08. Déjà Vu 5:43
09. The Last Refugee 4:22
10. Picture That 6:45
11. Welcome to the Machine 6:59
12. Wish You Were Here 5:06
13. The Happiest Days of Our Lives 1:45
14. Another Brick in the Wall (Pt. 2) 3:19
15. Another Brick in the Wall (Pt. 3) 2:50
Set 2:
16. Dogs 17:07
17. Pigs (Three Different Ones) 11:39
18. Money 6:25
19. Us and Them 7:51
20. Smell the Roses 5:35
21. Brain Damage 4:29
22. Eclipse 3:08
Zugaben:
23. Vera 1:13
24. Bring the Boys Back Home 2:35
25. Comfortably Numb 8:40
*Songlängen ungefähr Angaben!
Foto: Richard Fischer!