Roger Waters 27. + 28.9.2017 Boston TD Garden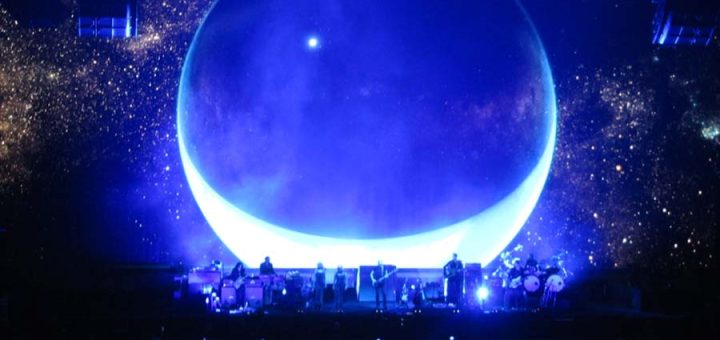 Bericht zu den beiden Konzerten in Boston
von Alois V.
Da ich eigentlich dachte, dass ich 2018 ein Auslandsjahr machen und somit die Europatournee verpassen würde, kam die Idee auf, nach Boston (und New York) zu reisen, um Roger Waters Us & Them Tour zu sehen. Soeben bin ich zurück vom zweiten Konzert und beinahe rundum begeistert! Beide Auftritte waren nicht ganz ausverkauft, die Stimmung jedoch war sehr gut.
Die Band:
Die beiden heimlichen Gewinnerinnen sind sicher die Lucius-Sängerinnen, welche sowohl als Lead wie im "Great gig in the sky" wie auch als backing vocals ganz tolle Gesangaeinlagen zum besten gaben. Der Gitarrist, von Waters anlässlich der Bandvorstellung (die am zweiten Abend vergessen ging..) spaßeshalber als Quotenhippie aus Kalifornien präsentiert, spielt alle Gilmour-Soli bravourös, der Gesang lässt meiner Meinung nach aber zu wünschen übrig. Roger selbst führt die Band sehr motiviert an, die gelegentlichen, eher grimmig-selbstironischen Interaktionen mit dem Publikum kommen sehr gut an.
Die Setlist:
Im großen und ganzen eine gut abgestimmte und repräsentative Setlist, insbesondere die Lieder des neuen Albums in der ersten Hälfte fügen sich gut ein. Fremdkörper sind "Welcome to the machine" (das Video von Gerald Scarfe passt meiner Meinung nach gar nicht zu den restlichen visuellen Effekten) sowie "Smell the roses" in der zweiten Hälfte. Mother hat den Platz von "Vera" und "Bring the boys back home" übernommen.
Set 1:
01. Speak to Me
02. Breathe
03. One of These Days
04. Time
05. Breathe (Reprise)
06. The Great Gig in the Sky
07. When We Were Young
08. Déjà Vu
09. The Last Refugee
10. Picture That
11. Welcome to the Machine
12. Wish You Were Here
13. The Happiest Days of Our Lives
14. Another Brick in the Wall (Pt. 2)
15. Another Brick in the Wall (Pt. 3)
Set 2:
16. Dogs
17. Pigs (Three Different Ones)
18. Money
19. Us and Them
20. Smell the Roses
21. Brain Damage
22. Eclipse
Zugaben:
23. Mother
24. Comfortably Numb
Das Publikum:
Die Begeisterung war da, ganz klar. Ziemlich durchmischt, essen und trinken war ebenfalls sehr wichtig.. Auch die vielen Merchandisingstände wurden regelrecht überrannt.
Fazit:
Bei Waters steht die Show und vor allem die Botschaft im Vordergrund, bei Gilmour die Musik sowie schöne Konzertstätten. Die Eindrücke diesbezüglich sind etwas ambivalent, das Engagement halte ich für sehr wichtig, im Ausdruck dann aber doch zu plakativ und wenig konstruktiv. Trump ist omnipräsent, die teils harsche Kritik nimmt das Publikum recht euphorisch auf, als Waters kurz vor der Pause sich in Footballermanier aber hin kniet, sind die Pfiffe wesentlich lauter als der Jubel. Insgesamt bleibt die Botschaft eben oberflächlich und einseitig moralisch gewichtet. Nicht zuletzt aufgrund dieser Art, mit ihm umzugehen, hat Trump schließlich auch die Wahlen gewonnen. Trotzdem kann ich einen Besuch eines oder mehrerer Konzerte nächstes Jahr sehr empfehlen, die Show ist atemberaubend, insbesondere der Anfang der zweiten Hälfte mit den Animals-Elementen!
Danke Alois für deinen Bericht! Foto: Roger Waters Louisville 28.5.2017 von Richard Fischer!