Pink Floyd 13.10.1994 London Earls Court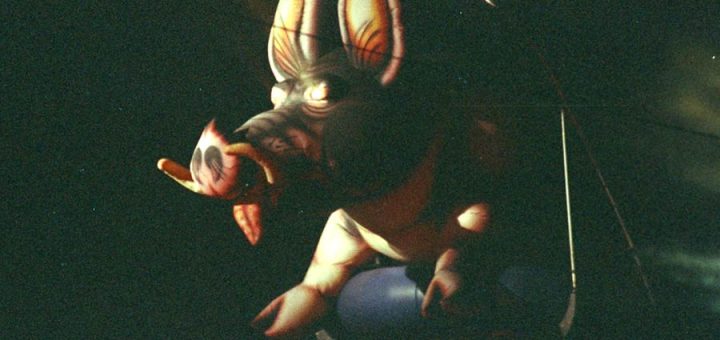 Night by Night von Chris Job
Konzert 2: Donnerstag 13.10.1994
David Gilmour: schwarzes T-Shirt, Blue Jeans
Nick Mason: weißes T-Shirt, schwarze Hose
Rick Wright: weißes Hemd, braune Jacke, Blue Jeans
Die Geschehnisse vom Vorabend noch gut in Erinnerung, hörte man heute von vielen nervösen Seelen die Frage: "Werden sie heute die gesamte Halle zum Einsturz bringen?" Knapp vor 20 Uhr erschien Harvey Goldsmith auf der Bühne. Er entschuldigte sich ein weiteres Mal für die Vorfälle der vergangenen Nacht. Außerdem teilte er uns mit, daß Dave Gilmour ein paar Worte an uns richten möchte. David Gilmour wünschte allen einen schönen Abend, er entschuldigte sich ebenfalls beim anwesenden Publikum.
Kurze Zeit später ertönte dann auch das Intro zu "Shine" on, und Gott sei Dank konnte diesmal das Konzert auch fortgesetzt werden. Leider muß ich sagen, daß man nach meinem Empfinden eindeutig erkennen konnte, daß der Band der Schock vom Vorabend noch in tief den Knochen steckte. Die Verkrampfung und Nervosität war allen anzusehen. Es war das schlechteste Konzert, das ich von Pink Floyd je gesehen hatte. Rick Wright, den ich von meinem Platz aus gut erkennen konnte, sah während des ganzen Konzertes sehr unglücklich aus.
Der Sound war ebenfalls sehr enttäuschend. Gitarren und Bässe überlagerten die Keyboards und Backing Vocals, die oft gar nicht zu hören waren. Ein Höhepunkt für mich war Nick Mason. Wunderbar mit anzusehen seine triumphale Rückkehr zu seiner alten Form. Es war für mich überhaupt keine Frage, Nick führte das Schlagzeug von der ersten Minute an, Garry Wallis tat nicht viel für sein Geld. Die Licht und Spezialeffekte waren sehr eindrucksvoll, trotzdem war dieser Abend eine kleine Enttäuschung.
Set 1:
01. Shine On You Crazy Diamond (Parts 1-5+7) 12:57
02. Learning To Fly 5:20
03. What Do You Want From Me 4:16
04. On The Turning Away 6:54
05. Take It Back  6:13
06. Coming Back To Life 7:05
07. Sorrow 11:18
08. Keep Talking 7:43
09. One Of These Days 7:16
Set 2:
10. Astronomy Domine 4:10
11. Breathe 2:46
12. Time 5:46
13. Breathe Reprise 1:06
14. High Hopes 8:05
15. Great Gig In The Sky 5:27
16. Wish You Were Here 5:51
17. Us And Them 06:34
18. Money 10:01
19. Another Brick In The Wall (Part 2) 7:06
20. Comfortably Numb 10:29
Zugaben:
21. Hey You 5:05
22. Run Like Hell 8:32
Übersetzt von Werner Haider!