Neil Young lädt zum Bridge School Benefizkonzert Roger Waters und Metallica ein!
Neil Young hat für das 30jährige Jubiläum der "Bridge School Benefit Concerts" wieder einmal ein tolles Lineup zusammengestellt! Und diesmal ist einer von Pink Floyd dabei! Das Young ausgerechnet Roger Waters einlud, der ihn 2014 wegen eines geplanten Konzerts in Tel Aviv mit Crazy Horse auch medial zu dessen Absage aufforderte, das überrascht. Das Konzert fand letztendlich nicht statt, es wurde wegen der kritischen Sicherheitslage abgesagt.
Getroffen haben sich Waters und Young 1992 bei einem Benefizkonzert von Don Henley. Richtig ins Gespräch kamen sie damals laut Waters aber nicht. Jetzt können sich die beiden endlich wieder persönlich treffen und über diverse politische Entwicklungen unterhalten, von Monsanto bis Trump. Vielleicht sehen sie sich vorher beim Desert Trip Festival!
My Morning Jacket treten auch beim Bridge School auf. Durchaus möglich das Waters mit ihnen und dem einen oder anderen seiner eigenen Band gemeinsam spielt!
30th Annual Bridge School Benefit Concert Lineup! 22.+23.10.2016 Shoreline Amphitheatre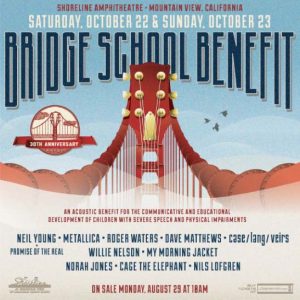 Neil Young + Promise of the Real
Metallica
Roger Waters
Dave Matthews
case/lang/veirs
Willie Nelson
My Morning Jacket
Norah Jones
Cage The Elephant
Nils Lofgren
Ich danke Thomas Zeidler für die Info!