Elton John kündigt seine letzte Tour an!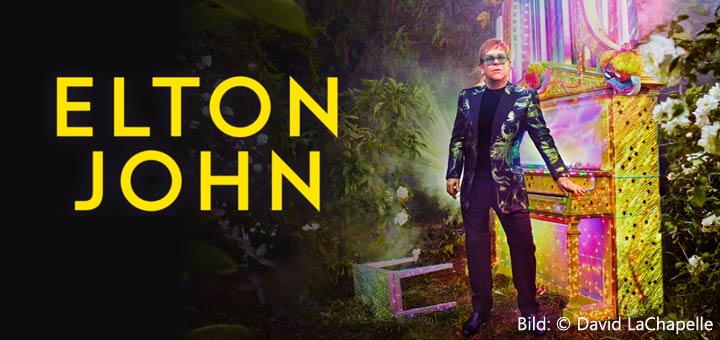 Unsere Helden sind in die Jahre gekommen! Nach und nach sprechen sie von ihren letzten Tourneen! Elton kündigte seine allerletzte Tournee an. Im Mai und Juni 2019 wird er im Rahmen seiner "Farewell Yellow Brick Road"-Tour!" in unseren Breiten spielen! Für alle die diese letzte Chance nutzen wollen: Der Kartenvorverkauf startete heute um 10 Uhr!
"Farewell Yellow Brick Road"-Tournee:
02.05.2019

Wien, Stadthalle Halle D, Tickets
09.05.2019 

Bremen, ÖVB Arena, Tickets
11.05.2019 

Stuttgart, Schleyerhalle, Tickets
12.05.2019 

Oberhausen, König Pilsener Arena, Tickets
22.05.2019 

Hannover, TUI Arena, Tickets
26.05.2019 

München, Olympiahalle, Tickets
01.06.2019 

Wiesbaden, Bowling Green, Tickets
29.06.2019 

Montreux, Jazz Festival
30.06.2019 

Montreux, Jazz Festival
Elton John kann auf ein schier unfassbares Repertoire zurückgreifen, über 40 Jahre Hitgeschichte hat der gebürtige und zum Sir geadelte Brite bereits geschrieben. Von Bennie & The Jets zu Crocodile Rock, von Rocket Man zu Candle in the Wind – zu kaum einem Musiker fallen einem so viele Hits ein wie zu Elton John.
Elton John's Verbindungen zu Pink Floyd
David Gilmour spielt auf dem von Elton John 1992 veröffentlichten Album "
The One" ein Gitarrensolo zu dem Song "Understanding Women". In einem Interview 2011 erzählte Elton John von einem Gespräch mit Nick Mason, der zu Tränen gerührt über Live 8 sprach.
Elton John: Look at Pink Floyd – that is an absolute tragedy that they can't play together. Their lovely drummer – Nick Mason – I was with him at Elizabeth Hurley's wedding and he was talking about the gig they were going to play in Hyde Park and as he told me about it he cried. He said he'd been waiting for that day for so long. Because of two people within the band they can't work and that is monstrous. They are one of the greatest bands of all time.
Im Gedenken an Rick Wright widmete Elton John ihm bei einem Konzert seiner US-Tour 2008 den Song "Believe". Davor richtete er folgende Worte an das Publikum.
Elton John: Rick was such a wonderful musician and such a beautiful, gentle man. This ones for you, Rick.