David Gilmour 28.9.2016 London Royal Albert Hall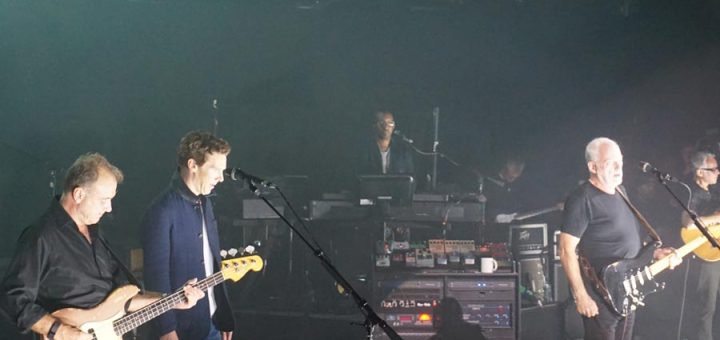 Es ist schon etwas spät und ich schreib euch schnell einige Informationen über das Konzert. Das Publikum, also wir, die da gewesen sind, waren noch besser drauf, als beim Gig vor zwei Tagen! So war zumindest mein Eindruck. Es herrschte sehr gute Stimmung!! Das hat natürlich auch die Band und ihr Meister gespürt! Die Setlist kommt derzeit ohne "The Girl In The Yellow Dress" aus, das kann man verschmerzen! Dafür spielt er "Us And Them". Mir gefällt das gut! Das der João Mello super ist haben wir schon erwähnt!
Die Überraschung des Abends war aber ohne jeden Zweifel der Auftritt des Schauspielers Benedict Cumberbatch gewesen! Der eine wirklich beachtliche Gesangleistung bei "Comfortably Numb" darbot!
Spielstätte: Royal Albert Hall
Kapazität: 6.000, ausverkauft
Adresse: Kensington Gore, London SW7 2AP
Web: www.royalalberthall.com
Ticketpreise: £110 / £100 / £85 / £75 / £65
Einlass/Beginn: 18h/19:450h
Band:
David Gilmour: Guitars, Vocals
Chester Kamen: Guitars, Harmonica, Backing Vocals
Guy Pratt: Bass, Backing Vocals
Greg Phillinganes: Keyboards, Backing Vocals, Lead Vocals (Time)
Kevin McAlea: Keyboards, Accordion
Steve DiStanislao: Drums, Bell, Wind Machine, Backing Vocals
João Mello: Saxophones, Clarinete, Guitar
Louise Clare Marshall: Backing Vocals, Percussion (Today)
Bryan Chambers: Backing Vocals
Lucita Jules: Backing Vocals
Benedict Cumberbatch: Vocals (Comfortably Numb)
Setlist:
Set 1:
01. 5 A.M.
02. Rattle That Lock
03. Faces Of Stone
04. What Do You Want From Me
05. The Blue
06. The Great Gig In The Sky
07. A Boat Lies Waiting
08. Wish You Were Here
09. Money
10. In Any Tongue
11. High Hopes
Set 2:
12. One Of These Days 6:50
13. Shine On You Crazy Diamond 11:47
14. Fat Old Sun 6:48
15. Coming Back To Life 7:05
16. On An Island 6:49
17. Us And Them 7:30
18. Today 7:50
19. Sorrow 11:03
20. Run Like Hell 7:35
Encore:
21. Time 5:40
22. Breathe Reprise 1:10
23. Comfortably Numb 8:40