David Gilmour 2.10.2015 London Royal Albert Hall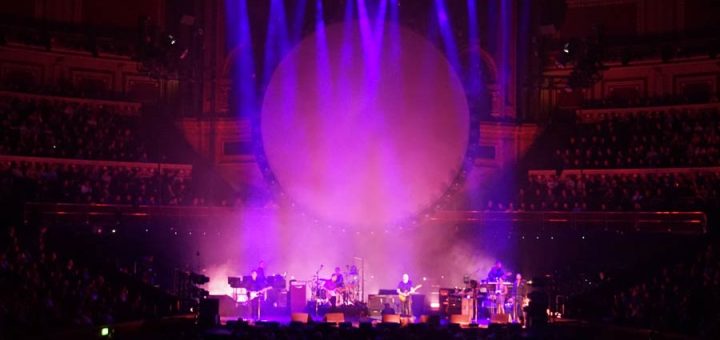 Coming Back To Life!
Ich saß in einer Logge und vor mir lag das Mischpult. Marc Brickman zu beobachten macht Spaß, denn der Lichtmeister fuchtelt mit den Händen herum, als ob er Dirigent eines großen Orchesters wäre. Neben ihm sitzt sein Assistent am "Lichtpult", die beiden sind per Funk miteinander verbunden. Scheint so, als ob ihm Brickman währnd des Konzerts Anweisungen gibt. Musste an Arthur Max denken, der in 70ern oft mit Amateuren an Beleuchtunskörpern arbeiten musste und deswegen regelmäßg auszuckte, nachdem die Beleuchter nicht wussten, wer wer ist bei der Band!
Es gab keine Gäste beim ersten der beiden Oktober Gilmour Konzerte in der Royal Albert Hall. Die Stimmung im Publikum war wieder großartig und man spürte das sich Gilmour und Band nach der Pause freuten ein weiteres Mal hier spielen zu können! Besonders gut gefiel mit heute "In Any Tongue", mit einem etwas längeren Solo, denn der Film war schon weg, als Gilmour zum finale ansetzte. "Coming Back To Life" schaffte es wieder in die Setlist. Sehr stark war gestern "Comfortably Numb"! Mir kam es so war, als ob er noch besser soliert hatte! Die Laser kamen mir auch verändert vor, kein blaue Farbe dafür viel rot und gelb, immer dichter wird das Lasernetz, dass sieht wirklich gut aus!
Was gibt es noch zu berichten? Wenige Minuten vor dem Konzert kam die Durchsage, dass man besser während des Konzerts keine Fotos und Videofilme machen sollte, dass hatte ich bei den anderen RAH-Shows noch nicht gehört. Wieder kein Film zu "On An Island" auf Mr. Screen. Die Vorstellung der Band folgte nach "Fat Old Sun". Gilmour bedankte sich bei Phil Manzanera u.a. mit den Worten, "Who came all the way from Columbia…". Bei "Run Like Hell" sah ich Polly Samson mit Tochter Romany Gilmour, die hinter Brickman saßen, nein tanzend hin und her schwingten, dass trifft es besser. Jill Furmanovksy sah ich auch, sie kam auch bei Brickman vorbei, sie wat mit einigen Fotokameras unterwegs! Ich denke, dass war vorerst alles Wichtige zum Konzert!?
Spielstätte: Royal Albert Hall
Kapazität: 5.200, ausverkauft
Adresse: Kensington Gore, London SW7 2AP
Web: www.royalalberthall.com
Ticketpreise: £110 / £100 / £85 / £75 / £65
Einlass/Beginn: 18h/19:45h
Band:
David Gilmour: Guitar, Vocals
Phil Manzanera: Guitar
Guy Pratt: Bass, Vocals
Jon Carin: Keyboard, Programming, Vocals, Lap Steel Guitar
Steve DiStanislao: Drums, Vocals
Kevin McAlea: Keyboards, Harmonica
João Mello: Saxofon, Klarinette, Keyboard
Louise Clare Marshall: backing vocals
Bryan Chambers: backing vocals
Setlist:
First Set:
01. 5am
02. Rattle That Lock
03. Faces Of Stone
04. Wish You Were Here
05. A Boat Lies Waiting
06. The Blue
07. Money
08. Us And Them
09. In Any Tongue
10. High Hopes
Second Set:
11. Astronomy Domine
12. Shine On You Crazy Diamond (Parts 1-5)
13. Fat Old Sun
14. Coming Back To Life
15. On An Island
16. The Girl In The Yellow Dress
17. Today
18. Sorrow
19. Run Like Hell
Encores:
20. Time
21. Breathe (reprise)
22. Comfortably Numb
Due to huge demand, two extra dates (2 and 3 October) have been announced.
Tickets for all five nights are now on sale.
David Gilmour, best known as the voice and guitar of Pink Floyd, will return for five nights at the Royal Albert Hall to coincide with the release of his, as yet untitled, fourth solo studio album.
Gilmour has not toured or released a solo album since his 2006 platinum selling album On An Island, a global smash hit record that immediately shot to the top of the Official UK Album Chart.
He returned to the top of the album charts last year with the release of Pink Floyd's final album The Endless River, their first in 20 years, which achieved platinum status around the world and hit headlines breaking the record as the most pre-ordered album ever on Amazon, as well as then becoming the fastest selling vinyl album of the year.