David Gilmour 15.3.2006 Paris Grand Rex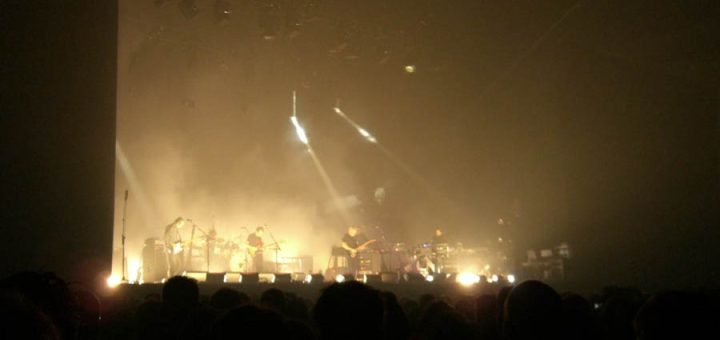 1966 mühte sich David Gilmour bei vielen Auftritten mit seiner Band "Flowers" in den kleinen Pariser Clubs, wie das "Le Bilboquet", ab. 40 Jahre später kehrte "The Voice and Guitar of Pink Floyd" mit dem Nummer 1  Album der französischen Charts "On An Island", nach Paris zurück und spielte im "Grand Rex" sein drittes Konzert seiner ausverkauften Tour.
Gilmours "Grand Rex" Konzert war selbstverständlich ausverkauft. Das 'Grand Rex' ist mit seinen 2.850 Sitzplätzen nicht nur eines der letzten De Luxe Kinopaläste Europas, sondern auch ein Unikat aus einer längst vergangenen Kinoepoche. Dieses Kino ist seit 1920 in Betrieb!
15.3.2006 Paris Grand Rex
Band:
David Gilmour: Guitars, Saxofon, Vocals
Rick Wright: Keyboard, Vocals
Phil Manzanera: Guitar
Guy Pratt: Bass, Guitar
Jon Carin: Keyboard, Guitar, Vocals
Steve DiStanislao: Drums, Vocals
Dick Parry: Saxofon
Set 1:
01. Castellorizon 3:47
02. On An Island 7:15
03. The Blue 6:18
04. Red Sky at Night 3:35
05. This Heaven 4:27
06. Then I Close My Eyes 6:46
07. Smile 4:42
08. Take a Breath 6:55
09. A Pocketful of Stones 6:08
10. Where We Start 7:24
Set 2:
11. Shine On You Crazy Diamond (Parts 1-5) 11:25
12. Wot's... Uh The Deal 5:28
13. Wearing The Inside Out 7:13
14. Speak To Me
15. Breathe 3:10
16. Time 6:51
17. Breathe Reprise
18. Dominoes 4:59
19. High Hopes 9:22
20. Echoes 22:25
Zugaben:
21. Wish You Were Here 5:58
22. Comfortably Numb 8:50
Nächstes Konzert:
‎16.3.2006 Paris Olympia
Vorheriges Konzert:
‎11.3.2006 Hamburg CCH