The Australian Pink Floyd 13.2.2008 Nijmegen De Vereeniging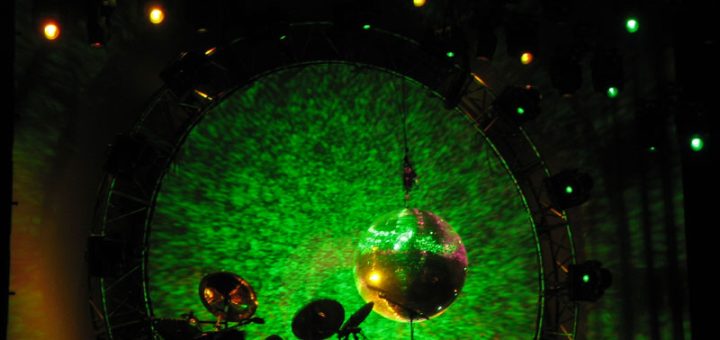 Bericht und Fotos von Bas Swanenberg
My first Aussie Floyd concert I never had the opportunity to see then and missed them. Last year when the were in Holland on the Arrow rock festival which was a success. So it was just a matter of time that they would be back this time for two gigs. One in Amsterdam and one in Nijmegen what is closest to me. About the gig the Vereeniging it's a almost 100 year old concert hall with room for about 1500 people a great atmosphere a place where David Gilmour could do a show. They venue was pretty full but not sold out
The Aussies started 20.00 sharp with a melody of 'Outside The Wall' with some Australian influences. Then as it should be as a blast ´In The Flesh´. The sound during the concert was brilliant and the acoustics from the hall amazing.
As I`m not going to review every song here some highlights: There version of `Set the controls´ is one of the best I ever heard I love that didgeridoo intro. After the break ´The great gig in the sky´ that background singer was absolutely amazing a real joy to listen too. ´One of these days´ another great song with very heavy bass I loved it. Than the band said goodbye with a very good ´Comfortably numb´.
Than for me the highlight of the evening the encore ´Run like hell´ absolute brilliant version. A bit like Gilmour did on Pulse the intro with the breaks one break was so long that I thought they had trouble with the equipment.
All in all a great concert I´m glad I was there good set list I think a little shorter they did not play ´Hey You´ or ´High Hopes´. And also not much show elements as the have on a bigger show it was a bit stripped the gig. Anyway I had a great time but you don´t have that feeling as the real man is up there. So I think 60 Euro for a ticket is too much how good they may be because for that amount you can see Roger or David.
Songliste:
01. In The Flesh?
02. The Thin Ice
03. Another Brick In The Wall Pt.1
04. The Happiest Days Of Our Lives
05. Another Brick In The Wall Pt.2
06. Learning To Fly
07. Money
08. Set The Controls For The Heart Of The Sun (Didgeridoo intro!)
09. Mother
10. Sheep
11. Shine On You Crazy Diamond Pt.1-5
12. Time
13. Breathe (Reprise)
14. The Great Gig In The Sky
15. Goodbye Blue Sky
16. Empty Spaces
17. Young Lust
18. Keep Talking
19. One Of These Days
20. Wish You Were Here
21. Comfortably Numb
22. Run Like Hell