Weitere Details zur "The Wall" Immersion Box
9.1.2012: Die Veröffentlichung der "The Wall Immersion Box", der vorerst letzten Box dieser Art, rückt näher und weitere Details, eine genaue Zuordnung der The Wall Demos, Roger Waters, Band und David Gilmour, wurden bekannt gemacht.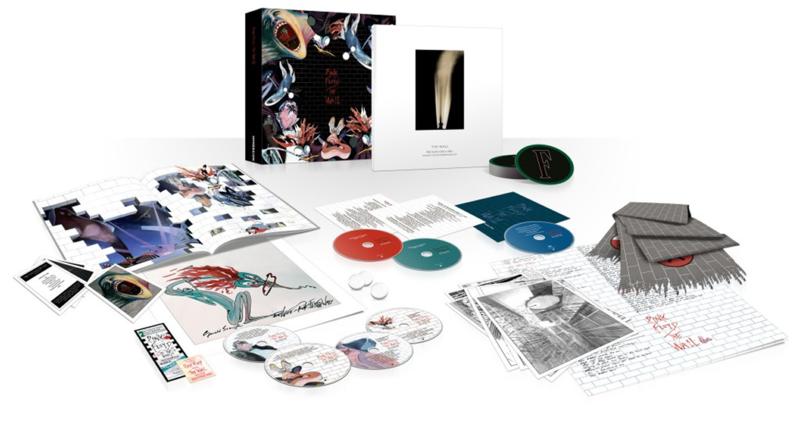 Außerdem neu aufgelistet bei den Memorabilia Beigaben ist ein 96cm x 81cm Booklet mit allen Texte von Gerald Scarfe handschriftlich niedergeschrieben. Auf der DVD befindet sich "The Happiest Days Of Our Lives" gefilmt im Earls Court 1980, dabei wird uns wieder das Wasser im Mund zusammenlaufen. Der Film stammt natürlich aus Roger Waters Archiv. Was er den restlichen Earls Court 1980 Filmaufnahmen vor hat bleibt bis auf weiteres sein Geheimnis.
Bei den Demos fällt auf, das die von Roger Waters überwiegend als "Excerpts", also als kurze Auszüge angegeben sind. Wie kurz, das werden wir bald erfahren. In einem Interview meinte Waters, das er noch 100 Minuten The Wall Demos zuhause hat, einiges davon gibt er für die The Wall Box her, aber nicht alles, denn man muss vorsichtig sein.
ROGER WATERS: »They're putting out all kinds of stuff. I'm having very little to do with it. The recording industry's dead. This might be one company attempting a last hurrah. I discovered I still have an hour and 40 minutes of my original demos of The Wall. I'm not putting all that on there, but there might be some bits. One has to be a bit careful what to do with stuff.«
Die Demos sind unterteilt in Roger Waters, Band und David Gilmour. Von letzterem stammen "Comfortably Numb" und "Run Like Hell" auf CD 6 Programme 4. Die Songlängen sind noch ohne Gewähr!
Disc 5, CD:
The Wall Work In Progress Part 1, 1979 (Previously Unreleased)
Programme 1, Excerpts from Roger Waters Original Demo:
01. Prelude (Vera Lynn) 0:24
02. Another Brick In The Wall (Part 2) 1:04
03. Mother 0:22
04. Young Lust 0:13
05. Another Brick In The Wall (Part 2) 0:18
06. Empty Spaces 0:19
07. Mother 0:08
08. Backs To The Wall 0:35
09. Don't Leave Me Now 0:28
10. Goodbye Blue Sky 0:40
11. Don't Leave Me Now 0:28
12. Another Brick In The Wall (Part 3) 0:37
13. Goodbye Cruel World 0:40
14. Hey You 1:09
15. Is There Anybody Out There? 1:22
16. Vera 0:27
17. Bring The Boys Back Home 0:38
18. The Show Must Go On 0:51
19. Waiting For The Worms 1:17
20. Run Like Hell 0:50
21. The Trial 0:34
22. Outside The Wall 1:03
 
Programme 2, Roger Waters Original Demo And Band Demos:
23. Prelude (Vera Lynn) (Roger Waters Demo) 0:55
24. Another Brick In The Wall (Part 1) 4:49
25. The Thin Ice 3:31
26. Goodbye Blue Sky 2:22
27. Teacher, Teacher 2:50
28. Another Brick In The Wall (Part 2) 1:31
29. Empty Spaces 1:53
30. Young Lust 4:26
31. Mother 4:38
32. Don't Leave Me Now 4:34
33. Sexual Revolution 5:00
34. Another Brick In The Wall (Part 3) 1:26
35. Goodbye Cruel World 1:13
 
Programme 3, Band Demos:
36. In The Flesh? 3:25
37. The Thin Ice 2:35
38. Another Brick In The Wall (Part 1) 3:41
39. The Happiest Days Of Our Lives 1:44
40. Another Brick In The Wall (Part 2) 1:57
41. Mother 4:36
 Disc 6, CD:
The Wall Work In Progress Part 2, 1979 (Previously Unreleased)
Programme 1, Roger Waters Original Demos And Band Demos:
01. Is There Anybody Out There? (Roger Waters Demo) 1:53
02. Vera (Roger Waters Demo) 2:19
03. Bring The Boys Back Home (Roger Waters Demo) 0:43
04. Hey You 4:06
05. The Doctor (Comfortably Numb) 3:15
06. In The Flesh 4:35
07. Run Like Hell 3:07
08. Waiting For The Worms 3:53
09. The Trial 4:05
10. The Show Must Go On 2:07
11. Outside The Wall 1:19
12. The Thin Ice (Reprise) 1:31
 
Programme 2, Band Demos:
13. Outside The Wall 1:53
14. It's Never Too Late 1:32
15. The Doctor (Comfortably Numb) 3:19
 
Programme 3, Band Demos:
16. One Of My Turns 2:29
17. Don't Leave Me Now 4:04
18. Empty Spaces 0:51
19. Backs To The Wall 1:33
20. Another Brick In The Wall (Part 3) 1:22
21. Goodbye Cruel World 1:06
 
Programme 4, David Gilmour Original Demos:
22. Comfortably Numb 3:14
23. Run Like Hell 3:02
Disc 7, DVD: Audio Visual
01. The Happiest Days Of Our Lives, Pink Floyd The Wall Earls Court 1980, Film archive courtesy of Roger Waters
02. Another Brick In The Wall, Part 2, Promotional Video (Restored in 2011) 3:59
03. Behind The Wall, Documentary
04. Gerald Scarfe Interview
Memorabilia:
01. 44 page 27cm x 27cm booklet designed by Storm Thorgerson
02. Exclusive photo book
03. 27cm x 27cm Exclusive Storm Thorgerson Art Print
04. 4 x Collectors' Cards featuring art and comments by Storm Thorgerson
05. Replica of The Wall Tour Ticket
06. Replica of The Wall Backstage Pass
07. Scarf
08. Prints/Cards of Mark Fisher's stage drawings
09. 3 x white marbles with design of bricks
10. 9 x Coasters featuring early Storm Thorgerson design sketches
11. 4-8 page credits booklet
12. 96cm x 81cm booklet with all lyrics handwritten by Gerald Scarfe
Vorbestellbar:
Info: Superdeluxeedition