Reissue: Pink Floyd verkauften über eine Million Vinyl-Alben!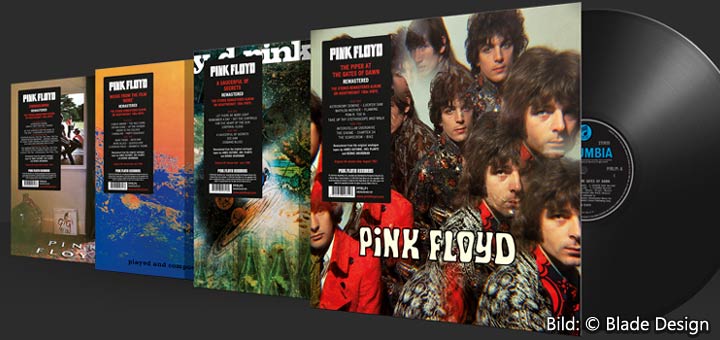 Wir berichteten darüber, dass Pink Floyd, anlässlich des Record Store Days am 21. April, den von James Guthrie, Joel Plante und Bernie Grundman remasterten Mono Mix ihres ersten Albums "The Piper At The Gates Of Dawn" veröffentlichen werden!
The Piper At The Gates of Dawn (Vinyl, new mono-mix 2018)
The limited-edition Record Store Day (RSD) release is delivered on premium 12″ 180-gram black vinyl, and comes paired with an exclusive poster (540 x 388mm on art paper), as well as a foil blocked outer wallet. It will be available from 21st April while stocks last.
Pink Floyd Vinyl Reissues
Mehr als eine Million Alben haben Pink Floyd seit dem Start ihrer Vinyl Wiederveröffentlichung im Juni 2016 verkauft! An der schwarzen Scheibe gibt es kein vorbei! Vinyl is back.
PFRLP1 The Piper At The Gates Of Dawn
PFRLP2 A Saucerful of Secrets
PFRLP3 More
PFRLP4 Ummagumma
PFRLP5 Atom Heart Mother
PFRLP6 Meddle
PFRLP7 Obscured By Clouds
PFRLP8 The Dark Side Of The Moon
PFRLP9 Wish You Were Here
PFRLP10 Animals
PFRLP11 The Wall
PFRLP12 The Final Cut
PFRLP13 A Momentary Lapse of Reason
PFRLP14 The Division Bell
PFRLP15
PFRLP16 Delicate Sound Of Thunder
PFRLP17 Pulse

PFRLP18 Relics

PFRLP19 A Collection Of Great Dance Songs
PFRLP20 Echoes (The Best Of Pink Floyd)?*
PFRLP21 A Foot In The Door (The Best Of Pink Floyd)?*
PFRLP22 ?
PFRLP23 ?
PFRLP24 ?
PFRLP25 ?
PFRLP26 The Piper At The Gates Of Dawn (Mono)
PFR12S6 Interstellar Overdrive (Maxi)
* noch nicht veröffentlicht