Pink Floyd veröffentlichen "Interstellar Overdrive" Maxisingle
Pink Floyd werden am 15. April "Interstellar Overdrive" veröffentlichen. Die Aufnahme, die im Thomson Studio in Hemel Hempstead entstand, noch bevor Floyd ihren Vertrag mit EMI unterzeichnet hatten, stammt vom 31. Oktober 1966.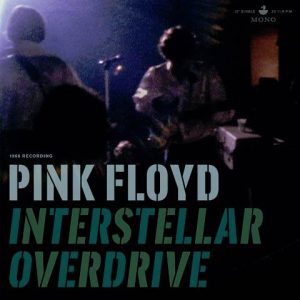 Die 14:57 Minuten Version soll bisher unveröffentlicht sein. Eine andere, kürzere Version des Tracks wurde auf 'The Piper at the Gates of Dawn' veröffentlicht.
Ob diese Aufnahme "Interstellar Overdrive" von 1966 tatsächlich so unbekannt ist wird sich noch zeigen! Denn Anthony Stern und Peter Whitehead verwendeten "IO" als Soundtrack für ihre Filme "San Francisco" (1966) und "Tonight Let Tonite Let's All Make Love in London" (1967).
Eine Woche vor dem Record Store Day kommt "Interstellar Overdrive" als Maxisingle. Die neue Version enthält ein ausklappbares Poster und Postkarte von einem 67er London Gig kommen. Die Maxi wird nur einseitig bespielbar und 180 Gramm schwer sein! Das Coverfoto zeigt Pink Floyd beim Auftritt im UFO im Blarney Club in London am 13. Januar 1967.