Unveröffentlichte Konzertaufnahmen von Pink Floyd bei Ausstellung 2017!
Bei der Beschreibung der 2017 stattfindenden Pink Floyd Ausstellung "Their Mortal Remains" ist auch von bisher unveröffentlichten Konzertaufnahmen, die der Öffentlichkeit präsentiert werden die Rede!
It will feature more than 350 objects and artefacts including never-before-seen material, presented alongside works from the V&A's outstanding collections of art, design, architecture and performance. Highlights will include spectacular set and construction pieces from some of Pink Floyd's most innovative and legendary album covers and stage performances including The Dark Side of the Moon, The Wall and The Division Bell, instruments, music technology, original designs, architectural drawings, handwritten lyrics and psychedelic prints and posters.designed laser light show.
At the exhibition, visitors will have the unique opportunity to experience never-before-seen classic Pink Floyd concert footage and a custom-designed laser light show.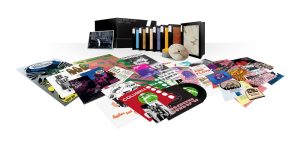 Hoffnungsvoll gehen wir davon aus das es sich um Aufnahmen handelt, die nicht zur Gänze in der "The Early Years" Box veröffentlicht wurden, sondern tatsächlich um nie zuvor gesehene Aufnahmen der "klassischen" Pink Floyd. Dafür würden sich beispielsweise die von Gerald Scarfe gefilmten The Wall Shows im Earls Court hervorragend eignen und nachdem Roger Waters, der Besitzer dieser Aufnahmen, tatkräftig am Zustandekommen der Ausstellung mitgewirkt hat, darf man tatsächlich darauf hoffen!!
Wie wir alle Wissen haben Pink Floyd es leider total verabsäumt ihre Konzerte in den 70ern filmen zu lassen! Keine Ahnung warum, vielleicht hat etwas Arroganz mitgespielt vielleicht aber legten sie einfach keinen Wert darauf.
Rolling Stone: The fans would also love more live albums. Maybe something from the Animals tour or something.
Nick Mason: It's such a shame. The problem is the technology wasn't around so much and we were all paranoid about bootlegging, so we didn't actually record or film many of our tours. The fact there's no definitive Dark Side film is a shame, really.
Mason kann es sich auch nicht recht erklären, es ist eine Schande. Interessanterweise lässt er die Frage nach einem Livealbum der Animals-Tour unbeantwortet! Das wäre es!!
Weitere Veröffentlichungen von Pink Floyd 2017!
Während es bis 1972 Material gibt, dank diverser TV-Stationen, wird es danach zappenduster! So wie es aussieht existiert von den genialen Pink Floyd Shows, die sie 1973, 1974, 1975 und 1977 spielten keine vollständige Filmaufnahme! Vielleicht aber sind Teile gefilmt worden, z.B. Aufnahmen von Rehearsals, Privatfilme der Band und Crewmitglieder gibt es auch! Vielleicht überraschen uns Pink Floyd nächstes Jahr, wenn sie ihr 50jähriges Jubiläum feiern ein weiteres Mal! Weitere Veröffentlichungen und Special-Releases wurden von Nick Mason angekündigt!
Ist man etwa im Zuge der Recherchen für die "Early Years" Box in den weiten der Archive fündig geworden! Hat man Filmrollen in irgendeiner Kiste entdeckt, deren Existenz längst in Vergessenheit geraten war?
Auf welche Aufnahme würdet ihr euch freuen? Welches Material könnte euer Meinung nach mit never-before-seen classic Pink Floyd concert footage gemeint sein?