Pink Floyd Fanzine Heyou 23
Ab sofort erhältlich ist die neue Heyou Ausgabe Nr. 23! Das Pink Floyd Fanzine ist in italienisch und englischer Sprache geschrieben! In der neuen Ausgabe gibt es unter anderem einen längeren Beitrag über Pink Floyd 1973, mit einem Interview von David Gilmour, das er dem Sounds Magazin gab.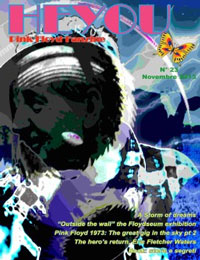 Einen interessanten Satz daraus sagte Gilmour dazu, wie Band nach dem Riesenerfolg mit "Dark Side of the Moon" weiter machen könnte: "I Think strategically our best thing to do next would be something weird, far out, and the kind of thing that nobody could possibly understand."
Das würde den Floyd´schen Versuch, ein Album mit Haushaltsgegenständen aufzunehmen, perfekt erklären! Gilmour weiter: "I think to try and follow up "Dark Side" with similar things, it´d be placing a heavier burden on our shoulders evry time, it´d just go on bulidling up, and we do like to feel fairly free in what we like to do. It´s awful to get something that´s the same sort of thing and then get trapped into that, it´s so easy."
Inhalt:
A Storm Of Dreams
Outside The Wall, The Floydseum Exhibtion
Pink Floyd 1973: The Great Gig In The Sky Pt.2
A Saucerful Of Bits and News
The Hero´s Return, Eric Fletcher Waters
Storie E Sregreti, The Lunatics Are On The Grass
Das Fanzine kann abonniert werden, mehr dazu findet ihr auf der Website von Heyou.
Ich bedanke mich bei Alberto!