Neue Details: The Soldier's Tale – Narrated by Roger Waters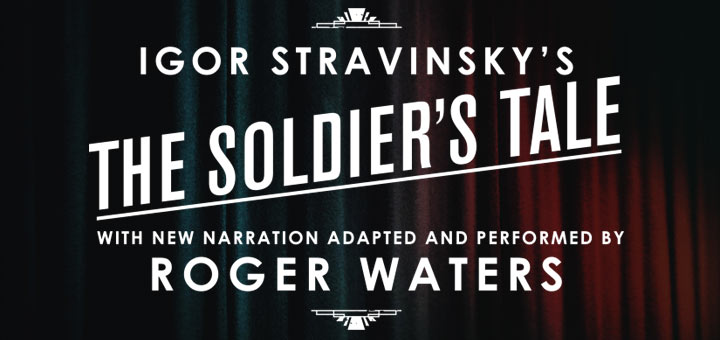 Es gibt neues von Roger Waters bevorstehender Veröffentlichung "The Soldier's Tale" zu berichten. Das Backcover, die Titel und Längen der Stücke sind bekannt geworden. Außerdem eine Beschreibung des neuen Album's.
ROGER WATERS – THE SOLDIER'S TALE BY IGOR STRAVINSKY

Mit seiner Aufnahme von Igor Strawinskys Antikriegs-Musiktheater "Die Geschichte vom Soldaten" setzt Waters seine langjährige musikalische Auseinandersetzung mit dem Thema Krieg und dem persönlichen Verlust seines Vaters im Zweiten und seines Großvaters im Ersten Weltkrieg fort. Bereits innerhalb der berühmten Pink Floyd Alben "The Wall" oder "The Final Cut" beschäftigte sich Waters mit diesem Themenkreis. Das Album erscheint kurz vor dem 100. Jahrestag der Unterzeichnung des Waffenstillstands von Compiègne, der den Ersten Weltkrieg am 11. November 1918 beendete, und kurz nach dem 100. Jahrestag der Uraufführung von Strawinskys Musiktheater am 28. September 1918. Den persönlichen Bezug zu Strawinskys Werk merkt man Waters Aufnahme deutlich an. So gibt er dem Soldaten einen südenglischen Akzent aus der Arbeiterklasse – Waters selbst stammt aus Surrey in Südengland – und lässt dem gegenüber die Figur des Sprechers leise und sachlich in Hochsprache auftreten. Szenen, in denen es zum Disput zwischen dem Teufel und dem Soldaten kommt, spricht Waters mit so viel Energie und kalter Wut, dass man das Drama des kleinen Mannes, der zu viel riskiert, plötzlich hautnah spürt. Mit seiner "Geschichte vom Soldaten" (im Original "L'histoire du soldat") wollte Strawinsky seine Zuhörer aufrütteln. Roger Waters hat das Stück voller Einsatz und Hingabe zusammen Musikern des angesehenen Bridgehampton Chamber Music Festival neu zum Leben erweckt.
Roger Waters & Bridgehampton Chamber Music Festival Musicians
The Soldier's Tale, Part I (Text Adapted by Roger Waters) 36:32

1. The Soldiers March 1:47
2. The Soldier is Tired 2:20
3. Airs by a Stream 2:35
4. As You Can Hear… (Roger Waters) 7:41
5. The Soldiers March [Reprise] 1:48
6. Eventually, Joseph Reaches his Home Village… (Roger Waters) 2:56
7. Pastorale 2:35
8. The Soldier, Disconsolate… (Roger Waters) 4:13
9. Pastorale [Reprise] 0:37
10 The Soldier, Slowly Coming Back to Himself… (Roger Waters) 2:48
11. Airs by a Stream [Reprise] – To Stretch Out on the Grass… 0:47
12. Hey Satan, You Bastard… 5:33
13. Airs by a Stream [2nd Reprise] 0:46
14. Now to be Gained Here… (Roger Waters) 0:06

The Soldier's Tale, Part II (Text Adapted by Roger Waters) 42:32

15. The Soldiers March [2nd Reprise] – Down a Hot and Dusty Track… 0:50 16. He Doesn't Even Know Himself… (Roger Waters) 0:52
17. The Soldiers March [3rd Reprise] – Will he Take the Road to Home… 0:28
18. He doesn't have a Home Anymore… 3:56
19. The Royal March 2:38
20. So all was Arranged… (Roger Waters) 0:58
21. Later that Night… 8:39
22. The Little Concert – Light Floods the Eastern Sky… 2:59
23. The Soldier, with a Confident Air… (Roger Waters) 0:46
24. Three Dances – Tango, Pt. 1 1:18
25. Three Dances – Tango, Pt. 2 1:01
26. Three Dances – Waltz & Ragtime 4:02
27. So First a Tango… (Roger Waters) 0:40
28. The Devil's Dance 1:20
29. The Devil, Confused… (Roger Waters) 0:27
30. The Little Chorale 0:42
31. The Devil Recovers Some of his Wits (Roger Waters) 0:13
32. The Devil's Song – All Right! You'll be Safe at Home… 0:39
33. Hm, a Fair Warning… (Roger Waters) 0:13
34. Grand Chorale [Part 1] 0:29
35. Spring, Summer, Autumn… (Roger Waters) 0:16
36. Grand Chorale [Part 2] 0:30
37. Steady Now… (Roger Waters) 0:11
38. Grand Chorale [Part 3] 0:27
39. Steady, Just Smell the Flowers… 0:13
40. Grand Chorale [Part 4] 0:52
41. Now I have Everything… 0:34
42. Grand Chorale [Part 5] 0:55
43. The Princess, all Excited… (Roger Waters) 1:21
44. Grand Chorale [Part 6] 0:26
45. And so, Off They Go… 1:13
46. Triumphal March of the Devil 2:24
℗ 2018 Roger Waters Music Overseas Ltd under exclusive license to Sony Music Entertainment