Musikexpress würdigt Pink Floyd
8.10.2013: Ich hatte einmal vor vielen Jahren zum Boykott des Musikexpress aufgerufen, weil sie Pink Floyd´s Live At Pompeji Film so gar nicht mochten und ihn sogar als den langweiligsten Konzertfilm aller Zeiten schimpften.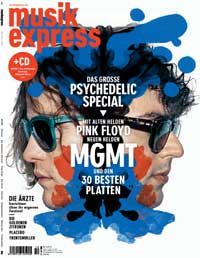 Die Zeiten ändern sich wie man an der aktuellen Ausgabe des Musikexpress erkennen kann. Zwar gibt es noch nichts gegenteiliges über Live At Pompeji zu lesen(!!), dafür aber eine große Würdigung für die ME-Helden(!!) Pink Floyd! Die es laut dem Magazin vom Londoner Underground zur größten Band der Welt schafften! Oliver hat das Magazin für uns schon einmal vorab gelesen und stellt uns den Inhalt vor! Hier sein Eindruck.
Von Oliver Thöne
Auch wenn der Boykott offiziell nie beendet wurde, erlaube ich mir hier mal den Hinweis auf den aktuellen MUSIKEXPRESS, der ebenfalls -im Rahmen eines Psychedelic-Specials- mehrseitig über Pink Floyd berichtet. U.a. werden auch die besten 30 Alben dieses Genres gekürt, The Madcap Laughs schaffte es auf Platz 11 und The Piper At The Gates Of Dawn auf die 1.
Dazu gibt es Kurzrezensionen von The Piper At The Gates Of Dawn, A Saucerful of Secrets und den Alben von 71-79, bei denen immerhin 3mal die Bestnote (6 von 6 Sternen) vergeben wurde, und zwar an The Piper At The Gates Of Dawn, Dark Side of the Moon und Wish You Were Here. Knapp dahinter Meddle (5,5) und Animals (5), schlechtestes Album ist The Wall (immer noch gute 4 Sterne).
Nett geschrieben, neue Erkenntnisse sollte man aber nicht erwarten, außer vielleicht: Man darf Pink Floyd wieder gut finden!