MOJO Spezial-Ausgabe mit "Animals" 3D-Cover!
Anlässlich 40 Jahre ANIMALS hat sich MOJO was besonderes einfallen lassen! Die neue Ausgabe, die ab 21. März zu kaufen ist, wird zur Feier des Jubiläums mit einem auffälligen 3D Cover verziert, das mit 5.000 Stück limitiert ist! Zu lesen gibt es ein ausführliches Interview von Roger Waters über das Animals Album. Wie schön wäre es, wenn irgendwo im kleingedruckten Informationen über Special-Releases von Animals stehen würden, also so etwas wie ein 5.1 Remix oder gar ein Live-Mitschnitt der "In The Flesh" Tour! Hoffentlich müssen nicht Schweine fliegen bevor es zu solchen Veröffentlichungen kommt! Weiters berichtet Mojo exklusiv über die bevorstehende Pink Floyd Ausstellung "Their Mortal Remains" im Victoria & Albert Museum.
MOJO 282 Pink Floyd [Limited Edition Lenticular Cover]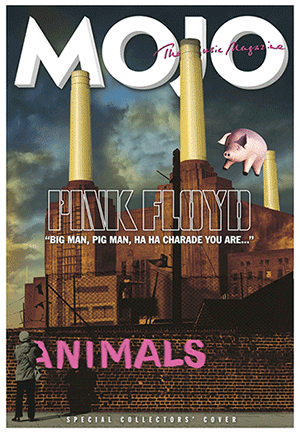 You'll believe a pig can fly! MOJO celebrates 50 years of Pink Floyd as a recording band and 40 years since Animals, their angriest album, was unleashed. Get hold of our strictly limited Lenticular Edition and watch Pink Floyd's iconic pig, "Algie", fly across the cover!
The package contains a lovingly curated CD of progressive sounds, including mind-expanding tracks by Hawkwind, Foxygen, Public Service Broadcasting, Gong, The Phoenix Foundation, Dungen, Jane Weaver and more.
Inside the magazine, the Floyd's Roger Waters gives an exclusive interview about the Animals album and MOJO is afforded an exclusive preview of the V&A's extraordinary Pink Floyd exhibition. Also this month: Prince – the man behind the myth; the madness and majesty of Bat Out Of Hell; Delaney & Bonnie's soul-rock circus; plus Future Islands, Dave Brock, Incredible String Band, Tom Petty, Bob Dylan, Aimee Mann, David Axelrod, Ice-T, Diamanda Galás and more.
MOJO 282's Lenticular Edition is limited to 5000 copies and is only available to buy online. So order now to avoid disappointment. Our "regular" edition, featuring the free CD and identical content is in UK stores from Tuesday, March 21.
Bestellen: Pink Floyd's Pig Fly Across MOJO's Cover!