Ausstellung erinnert an Pink Floyd Konzert in Venedig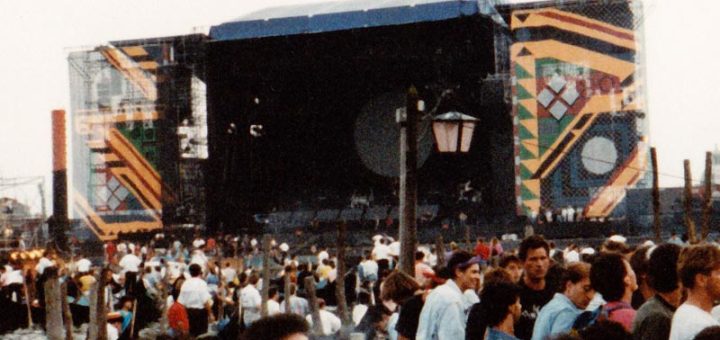 Sollte sich jemand hier im Februar in Venedig auf Urlaub befinden dann empfehlen wir den Besuch der Ausstellung "The Night Of Wonders, Pink Floyd in Venice", die auf das legendäre Konzert von Pink Floyd erinnert, das am 15.7.1989 in der Lagune Venedig's stattfand! Floyd-Experte Alberto Durgante hat zum zweiten Mal diese Ausstellung zusammengestellt!
ANOTHER LAPSE
The no profit Cultural Association Floydseum, dedicated to enhancing the art and culture of the famous British band Pink Floyd, is pleased to announce its new exhibition, "The Night Of Wonders, Pink Floyd in Venice", to be held in Venice at the beautiful Serra dei Giardini, from 11 to 25 February 2017.
After creating the first and only 3D virtual museum dedicated to the world of collecting Pink Floyd, the great exhibitions of Padua 2013, Venice 2014 and Portogruaro 2015, the Floydseum, cultural association which brings together in a virtual network some of the greatest collectors of the band in the world, returns to be talked about.
Thanks to the courtesy of Nonsoloverde, the exhibition will be done in the enchanting scenery of the Serra dei Giardini (dating from the end of 1800), located in Venice between the Biennale and the Arsenale, an exhibition that will be able to relive the excitement of the July 15, 1989, unforgettable Pink Floyd concert in Venice!
The exhibition, through photographic evidence and written memories, will set a time of music history and the city of Venice.
Do not miss the wonderful pictures of the photographers Guido Harari, Andrea Pattaro, Marco Sabadin, Bob Hassall, Alcide Boaretto, the memories and the rare memorabilia.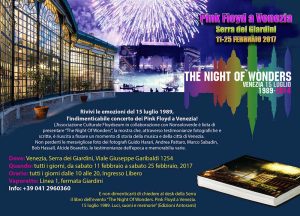 The exhibition will be open daily from Saturday, February 11, to Saturday, February 25, from 10 am to 20 pm , with free admission.
Venue of the exhibition: Venice, Serra dei Giardini, Viale Giuseppe Garibaldi 1254
Vaporetto: Line 1, stop Giardini
Info: segreteria@floydseum.org
At the exhibition you can also buy the book, "The Night Of Wonders. Pink Floyd a Venezia. 15 luglio1989. Luci, suoni e memorie "(Edizioni Antorami)
Besides the exhibition are also organized events such as the presentation of the Association's book and live music performances.
Do not miss any updates, follow the Floydseum official facebook page!
The Floydseum Association has decided to dedicate this exhibition to the memory of his late friend and former Vice-President, Gianluigi Soldi.