Neue Pink Floyd Doku und restaurierter Live At Pompeii Film in Turin
Der Regisseur Adrian Maben wird am 30. März in Turin, nach Paris und Montreal, zwei neue Filme über Pink Floyd präsentieren! Zum einen handelt es sich um "Chit Chat With Oysters", die 55minütige Dokumentation zeigt unveröffentlichtes Material, die während der Dreharbeiten für "Pink Floyd Live At Pompeji" in einem Pariser Studio 1972 entstanden.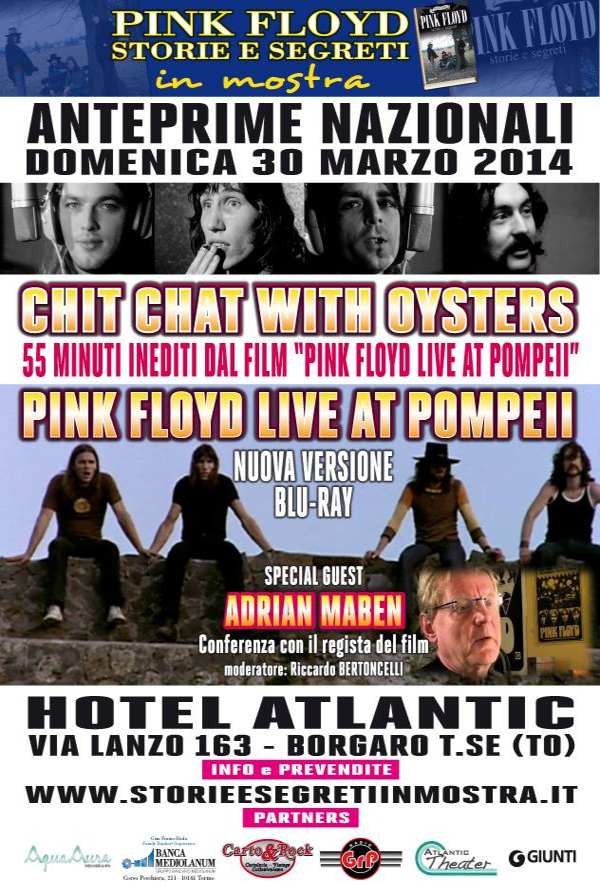 Bei seinem zweiten Film handelt es sich um eine neue Blu-Ray Version des "Pink Floyd Live At Pompeji" Filmes, mit der wiederhergestellten Video-und Mehrkanal-Audio. So kündigen unsere italienischen Freunde Stefano Tarquini und Nino Gatti, die mit anderen als The Lunatics die Veranstalter sind, das Filmprogramm an! 
"Adrian Maben will present in Turin next march 30th two new films about Pink Floyd: one is the documentary "CHIT CHAT WITH OYSTERS", with 55 minutes of unreleased tracks made during the filming of the movie "Pink Floyd Live at Pompeii"; second is the new version Blu-Ray of the film, with the restored video and multi-channel audio."
Von einer neuen Pompeji Version auf Blu-Ray ist bisher noch nichts bekannt gewesen? Maben erwähnte in einem Interview, dass dies durchaus möglich sei, als er den Film in Montreal zeigte, aber ließ gleichzeitig viele Details dazu offen. Maben soll in Turin neues in Sachen Live At Pompeji verraten!
Weitere Informationen über diese Veranstaltung findet ihr auf der Website: www.storieesegretiinmostra.it.