Poster: Pink Floyd 15.11.1972 Böblingen Sporthalle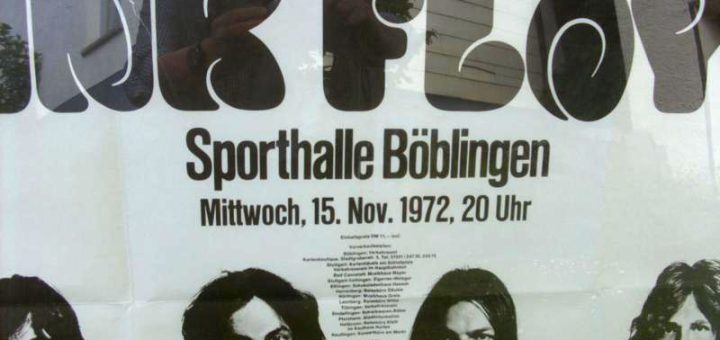 Bericht und Fotos von Eugen
Ich war ab Oktober 1972 in der Grundausbildung in Böblingen. Ich war da noch 18 Jahre. Unser Zugführer war auch Pink Floyd Fan und wir bekamen eine Stunde Verlängerung. Die Kaserne war gerade um die Ecke der Sporthalle. Auf meinem Plakat steht Böblingen Eintritt 11 DM. Ich habe das dort abgehängt, es hing früher in meinem Zimmer hat ein paar Tesa Reste und einen Riss – siehe Foto.
Songliste:
01. Speak to Me
02. Breathe
03. On the Run
04. Time
05. Breathe (Reprise)
06. The Great Gig in the Sky
07. Money
08. Us and Them
09. Any Colour You Like
10. Brain Damage
11. Eclipse
12. Careful with that Axe, Eugene
13. Looking Through the Knotholes in Granny's Wooden Leg (Echoes)
14. One of These Days
15. Set the Controls for the Heart of the Sun
Ich danke Eugen, dass er uns die Fotos des Posters zur Verfügung gestellt hat! Ich habe einen Nachdruck auf welchem München 15.11.1972 steht! Wenn ihr uns auch eines eurer Sammlerstück vorstellen möchtet, nehmt Kontakt mit uns auf!!