The Wall Live im Ernst-Happel-Stadion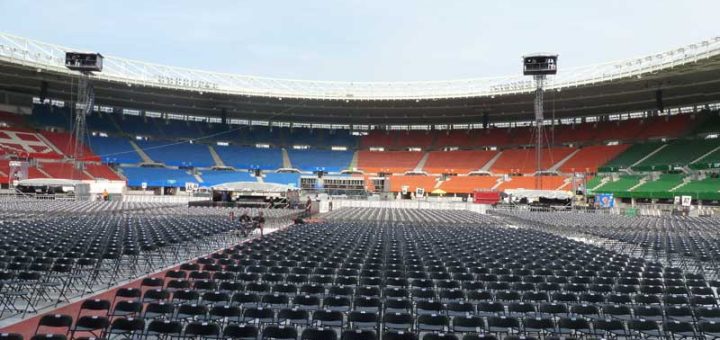 Jetzt ist es offiziell. Roger Waters wird sein The Wall Konzert in Wien nicht auf der Donauinsel sondern im Ernst Happel Stadion geben. 
Mitteilung des Veranstalters: Roger Waters wird seine sensationelle The Wall Show definitiv am 23. August 2013 in Wien präsentieren. Die kurzfristig zu klärende Frage ist, ob das Konzert nunmehr doch – wie ursprünglich geplant – im Ernst-Happel-Stadion stattfinden kann. Dies würde durch eine angeblich bereits getroffene Entscheidung von Rapid Wien ermöglicht werden, die nächste Saison im heimischen Hanappi-Stadion auszutragen, weil geplante Renovierungsarbeiten verschoben wurden. Sobald dies schriftlich bestätigt wird, ist der 23. August im Ernst-Happel-Stadion für The Wall verfügbar. Hiervon gehen im Moment alle Beteiligten aus.
Marek Lieberberg presents
Roger Waters – The Wall Live
Fr. 09.08.13 Frankfurt, Commerzbank-Arena
Fr. 23.08.13 Wien, Ernst-Happel-Stadion ***
Mi. 04.09.13 Berlin, Olympiastadion
Fr. 06.09.13 Düsseldorf, ESPRIT Arena
Karten für das Wiener Konzert sind in allen oeticket Centers und Verkaufsstellen in Österreich unter 01/96096 oder www.oeticket.com erhältlich – sowie in allen Wien-Ticket Centers und Vorverkaufsstellen in ganz Österreich unter 01/58885 oder www.wien-ticket.at. Tickets ebenfalls unter www.lskonzerte.at.
Allgemeiner Vorverkaufsstart für die deutschen Konzerte Sa., 17.11.2012, 09:00 Uhr
Allgemeiner Vorverkaufsstart für Wien Sa., 24.11.2012, 09:00 Uhr
Info: Thomas Zeidler