The Australian Pink Floyd Show 22.3.2010 München Olympiahalle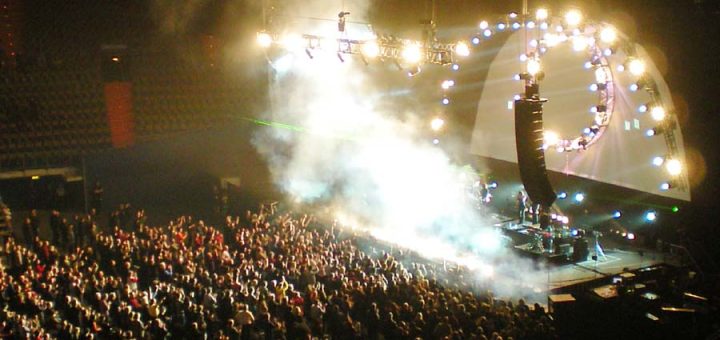 Bericht und Fotos von Peter Schernthaner
Also gleich vorweg, das Konzert hat mir sehr gut gefallen. Nachdem ich die Australian Pink Floyd schon 3 mal gesehen hatte, 1x Stuttgart 2004 und 2x Liverpool 2005, war ich gespannt auf die Setlist in der Olympiahalle. Leider hatten nicht gerade sehr viele Leute den Weg hier her gefunden, ich bin zwar ein Optimist, aber in diesem Fall muß ich sagen, die Halle war eher halbleer, und von einer Entfernung wie Saalfelden schon eher gar keiner.
Die Geschichte mit dem Musik hörendem Känguru fand ich sehr witzig. Das bekannte Herzpochen von DSOTM begann. Der Sound war absolut genial! Das Intro von Time, super gespielt, und die Stimme der Sängerin bei "Great Gig in the Sky", wunderschön! Pigs (ca. 12 Min.) war der Höhepunkt des ersten Teiles, wie muß das wohl 1977 geklungen haben?
Die Videos mit den Einblendungen besserer Pink Floyd Tage stimmten ein wenig traurig, sind aber insgesamt sehr gelungen. Nach der Pause war ich anfangs etwas enttäuscht, ein gutes "Astronomy", ein mittelmäßiges "Learning" und ein eher schlechtes "High Hopes", das ja eines meiner Lieblingssongs ist! Die Stimme des Sängers passt hier einfach nicht! Dafür ging es dann Schlag auf Schlag: "Us and them" toll und "Careful" absolut der Hammer!!! Später noch "Gunners dream", traumhaft!!!
Über "Comfortably numb" muss man nichts sagen, das beherrschen sie einfach, viel besser als die Band von Roger Waters! Von "One of these days" und "Run like hell", beide schon lange nicht mehr gehört, war ich sehr positiv überrascht! Auch das große Schwein kam wieder zum Einsatz! Insgesamt ein ganz, ganz tolles Konzert, absolut empfehlenswert!
Band:
Ian Cattell – Bass, Vocals
Steve Mac – Gitarre, Vocals
Damian Darlington – Gitarre, Vocals
Jason Sawford – Keyboards
Paul Bonney – Schlagzeug
Carl Brunsdon – Saxofon, Percussion
Amy Smith – Backing Vocals
Jacquie Williams – Backing Vocals
Ola Bienkowska – Backing Vocals
Songliste:
01. Speak To Me
02. Breathe
03. On The Run
04. Time
05. The Great Gig In The Sky
06. Shine On You Crazy Diamond Pt.1-5
07. Welcome To The Machine
08. Pigs (Three Different Ones)
09. Sheep
–
10. Astronomy Domine
11. Learning To Fly
12. High Hopes
13. Us And Them
14. Careful With That Axe, Eugene
15. Take It Back
16. The Gunners Dream
17. The Happiest Days Of Our Lives
18. Another Brick In The Wall Pt.2
19. Wish You Were Here
20. One Of These Days
21. Comfortably Numb
–
22. Run Like Hell