Bridge School Benefit: Roger Waters 22.10.2016 Mountain View Shoreline Amphitheater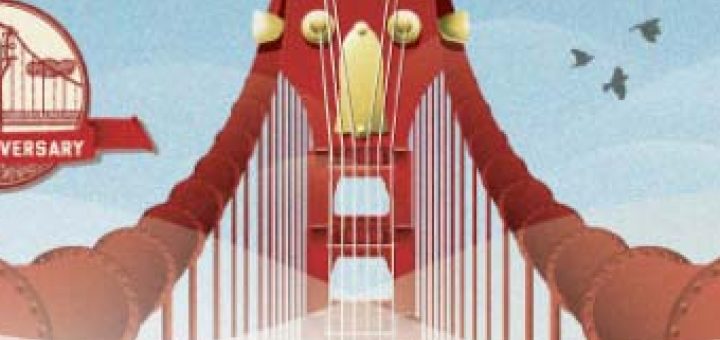 Roger Waters trat gestern beim Bridge School Festival auf! Das war allein deswegen schon hochinteressant, weil er im Gegensatz zu den Mega-Shows in Mexiko und beim Desert Trip Festival, bei der Waters eine "Lichtshow" einsetzte, die seinesgleichen sucht, bei diesen Benefizkonzerten akustisch auftrat, auf den ganzen KlimBim verzichtete!
30th Annual Bridge School Benefit Concert, 22.+23.10.2016 Shoreline Amphitheatre
Lineup:
Neil Young + Promise of the Real
Metallica
Roger Waters
Dave Matthews
Willie Nelson
My Morning Jacket
Norah Jones
Cage The Elephant
Nils Lofgren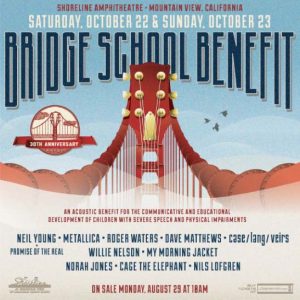 Das von Neil Young und seiner Frau gegründete Bridge School Festival findet seit 1986 jährlich statt! Die Einladung von Young an Waters ist schon deswegen interessant, weil Waters ihn wegen eines geplanten Auftritts in Tel Aviv vor ein paar Jahren, dass Konzert wurde wegen der unsicheren Sicherheitslage abgesagt, öffentlich kritisiert hatte. Young steht da drüber oder die beiden haben sich ausgesprochen.
Waters wurde bei seinem Auftritt wie schon beim Newport Konzert 2015 von der Band "My Morning Jacket" begleitet. Die beiden Sängerinnen von Lucius waren ebenso dabei wie der Gitarrist G.E. Smith. Jon Carin, Dave Kilminster und Co. sind schon wieder nach hause bzw. zu ihren nächsten Auftritten unterwegs.
Waters Setlist hatte mit "The Bravery Of Beeing Out Of Range" einen Song von Amused To Death! Diese Version gefällt mir sehr gut! DenSong würde ich sehr gerne auf der "Us * Them" Tour hören! Zum Schluss spielte Waters zwei Coverversionen! Forever Young musste irgendwie gespielt werden und zu diesem Song kam Neil Young zu ihm auf die Bühne!
Spielstätte: Shoreline Amphitheater
Kapazität: 22.500 Besucher, ausverkauft
Adresse: 1 Amphitheatre Pkwy, Mountain View, CA 94043, USA
Web: www.bridgeschool.org
Ticketpreise: 44$ bis 300$
Einlass/Beginn:
Band:
Roger Waters: Guitar, Vocals
Jim James: Guitar (My Morning Jacket)
Two Tone Tommy: Bass (My Morning Jacket)
Patrick Hallahan: Schlagzeug (My Morning Jacket)
Carl Broemel: Gitarre, Pedal Steel, Saxophon, Gesang (My Morning Jacket)
Bo Koster: Keyboard (My Morning Jacket)
G.E. Smith: Guitar, Bass
Jess Wolfe: Backing Vocals
Holly Laessig: Backing Vocals
Neil Young: Gitarre, Gesang (Forever Young)
Setlist:
01. Wish You Were Here
02. The Bravery Of Being Out Of Range
03. Mother
04. Vera
05. Bring The Boys Back Home
06. Hello in There (John Prine Cover)
07. Forever Young (Bob Dylan Cover with Neil Young)