Roger Waters 16.10.2017 Montreal Bell Centre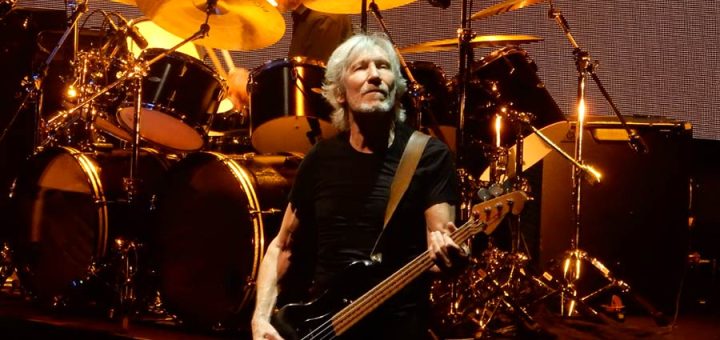 Konzertbericht von Thomas Zeidler
Minutenlange Standing Ovations von 16.000 Fans dazu ein Beifalls-Gekreische weit über der Düsenflieger-Dezibel-Grenze. Das brachte in Montreal selbst den sonstigen Griesgram Roger Waters aus dem Konzept. Gerade hat er der besten Multimedia-Show aller Zeiten zum Finale Eclipse nach fliegender Sau und Trump-Attacke noch eine haushohe Laserpyramide draufgesetzt und jetzt, vor den Zugaben, wird er vom Applaus, den Tränen und der Liebe der 16.000 Fans im Bell Centre sichtlich übermannt: Minutenlang kämpft Waters mit den Emotionen. Mit den Tränen sowieso. Dann bringt er mit gebrochener Stimme doch noch ein "Merci" zustande und "Danke Kanada, ich liebe euch, denn ihr habt keine nuklearen Waffen, dafür ein funktionierendes Krankenversicherungs-System." Starke Worte als emotionales Highlight einer Show der Superlative, die am 16-MAI auch in Wien zu sehen ist.
Vom Opener Speak To Me, dem als Intro 20 minütigen Sourround-Sound-Kollagen mit Meeresbrise, Polizei-Sirenen und Schüssen vorausgingen, bis zum Finale Comfortably Numb, bei dem Waters von der Bühne zu den Fans herabstieg und hunderte Hände schüttelte, lieferte Waters in Montreal eine 136-minütige Bombast-Show, die mit gleich 18 Pink Floyd-Hits der Album-Klassiker Dark Side of the Moon, Animals, Wish You Were Here und The Wall musikalisch selbst das legendäre The-Wall-Spektakel in den Schatten stellte. Und zu der Essenz der aktuellen Hit-CD Is This the Life We Really Want? auch in punkto Spektakel nichts zu wünschen ließ: eine 8K Video-Show rund um eine Überwachungs-Drohne auf einer Riesen-Videowall, der obligate 360-Grad-Sourround-Sound, ein Kinder-Gefangenenchor zu Another Brick in the Wall, die quer durch die Halle gezogene legendäre Londoner Battersee Power Station als Video-Kulisse zu 70iger-Jahre Klassikern wie Dogs nach der Pause und als Finale noch eine Laser-Pyramide zu Eclipse. weiterlesen ….
Statistik:
Spielstätte: Bell Centre (früher Molson Centre)
Kapazität: 16.000 Besucher
Adresse: 1909 Avenue des Canadiens-de-Montréal, Montréal
Ticketpreise: $55.00-$199.50
Einlass/Beginn: 19h/20h
Band:
Roger Waters: Vocals, Bass, Guitar
Joey Waronker: Drums
Jonathan Wilson: Guitar, Vocals
Gus Seyffert: Guitar, Bass
Dave Kilminster: Guitars
Bo Koster: Hammond Organ, Piano
Jess Wolfe: Vocals, Percussion
Holly Laessig: Vocals, Percussion
Ian Ritchie: Saxophone, Bass
Jon Carin: Keyboards, Guitar, Vocals
Set 1:
01. Speak to Me
02. Breathe
03. One of These Days
04. Time
05. Breathe (Reprise)
06. The Great Gig in the Sky
07. When We Were Young (Intro)
08. Déjà Vu
09. The Last Refugee
10. Picture That
11. Welcome to the Machine
12. Wish You Were Here
13. The Happiest Days of Our Lives
14. Another Brick in the Wall (Part 2)
15. Another Brick in the Wall (Part 3)
Set 2:
16. Dogs
17. Pigs (Three Different Ones)
18. Money
19. Us and Them
20. Smell the Roses
21. Brain Damage
22. Eclipse
Zugaben:
23. Mother
24. Comfortably Numb
Ich danke Thomas für seinen Bericht und Fotos!