Q&A: David Gilmour über sein Live-Album "Live at Pompeii"!
Bei all den Konzerten und Aktivitäten, die uns Nick Mason's Saucers im September bescherten, blieb kaum Zeit um über eine Neuigkeit von David Gilmour zu berichten!
Etwas überraschend gab es vergangene Woche auf Gilmour's Twitter, Instagram und Facebookseite einen Aufruf ihm Fragen zum Thema "Live at Pompeii" zu stellen!

Live at Pompeii: Merchandise
Anlässlich des einjährigen Jubiläums von Gilmour's "Live at Pompeii" kündigte Perryscope Productions, die Firma sorgt für die nicht enden wollenden "Goodies" von Pink Floyd & Co, an, dass man ein Auge auf den offiziellen Gilmour Webstore werfen solle, weil dort demnächst ein "Special Promo" auftauchen würde.
Auf den ersten Blick ist mir nur dieses schräge Teil aufgefallen: LIVE AT POMPEII PHOTO SLATE. Das Ding ist aus Stein!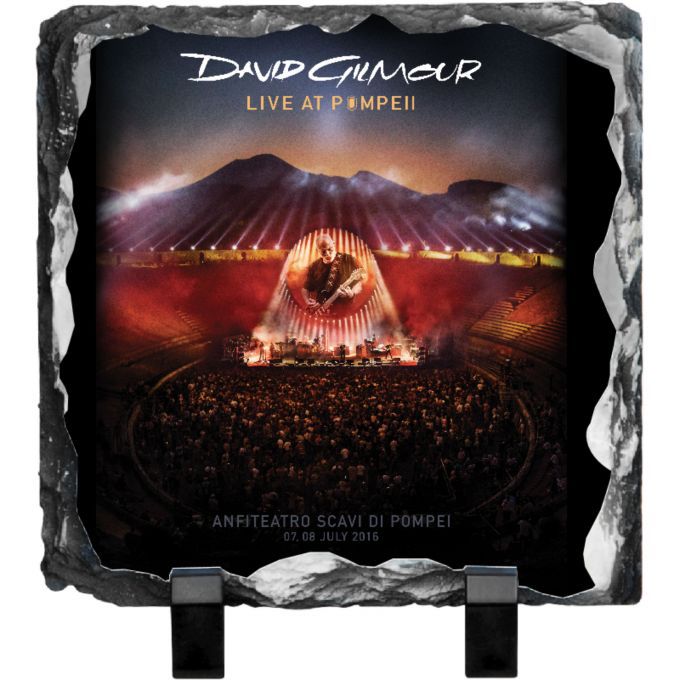 Created from finely-grained sedimentary rock, the slate canvas measures 7.5″ x 7.5″ and is 3/8″ thick. The ultra-flat coated image area provides for beautiful and consistent photo transfer, while the individually fractured edges helps to seamlessly blend the printed image into each piece. Includes plastic stand.
Ist das neu? Ich weiß es nicht! 15% Nachlass gibt es obendrein auf sämtliches "Pompeii" Merchandising!
David Gilmour noch nicht im Ruhestand!
Von den tausenden Fragen blieben am Ende 11 über, die der Gitarren-Maestro prompt beantwortete. Sehr schön und hoffnungsvoll stimmt mich, dass bei der Auswahl der Fragen, die nach einem möglichen Nachfolger von "Rattle That Lock" und Tour die Q&A Session abschloss!
Auch wenn er derzeit keine UNMITTELBAREN Pläne habe, so Gilmour, in Rente ist er nich nicht!  
Wunderbar, das klingt ganz so, als ob da noch was käme!  
Q&A mit David Gilmour
Foto von Polly Samson