Royal Albert Hall: David Gilmour besucht Crosby, Stills & Nash Konzert
2.7.2009: David Gilmour besuchte das Crosby, Stills & Nash Konzert am 1.7.2009 in der Londoner Royal Albert Hall.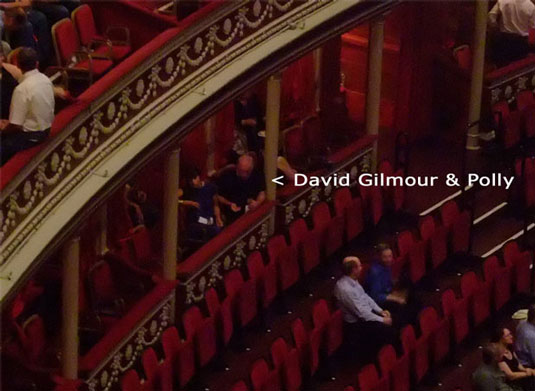 Zeitzeugenbericht und Fotos von Ina Wagner
Unsere Anreise nach London letzten Mittwoch verlief pünktlich und wir waren schon 10Uhr in der Innenstadt. Im Hotel konnten wir erst gegen 14Uhr unser Zimmer beziehen, wie das so üblich ist, deshalb erkundeten wir erst einmal den Stadtteil Chelsea.
Nachdem wir uns am Nachmittag frisch machen konnten und umgezogen haben, denn bei 30Grad waren wir in der tube schon mal "gebadet" worden, starteten wir zur Royal Albert Hall mit einem ganz kleinen Funken Hoffnung David Gilmour bei einem Song gemeinsam mit Crosby, Stills & Nash auf der Bühne zu sehen. Das Konzert war ausverkauft und unsere Plätze waren quasi unter dem Dach, aber wir waren trotzdem gespannt, denn wir sahen die 3 noch nie live.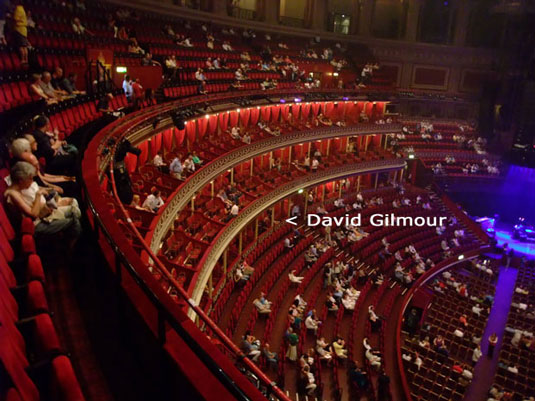 Am Eingang 4 warteten mit vielen Anderen auf Einlass. Als ewig nichts passierte, umrundeten wir die Halle noch mal. Dabei sahen wir am Stageeingang El Magnifico Phil Manzanrea, wie er gerade die Halle betrat. Unsere Hoffnungen stiegen, denn wo Manzanera ist, kann David Gilmour nicht weit sein. Das war dann auch so. 15 Minuten vor Konzertbeginn erreichten wir unsere Plätze im 4. Rang (letzte Reihe ganz oben, andere Tickets gab es nicht mehr, obwohl wir sie schon vor 3 Monaten für 55GBP gekauft hatten). Werners Hinweis, dass David vielleicht das Konzert in einer der Logen verfolgen würde, bewahrheitete sich. Ich fand ihn nach wenigen Augenblicken des Suchens. Er befand ich in einer der Logen mit Polly und weiteren Gästen. Während der Konzertpause verlies er die Loge nicht und ich wollte Paparazzi spielen näher heran gehen, um ihn zu fotografieren. Das blieb mir aber verwährt, man durfte nur den Bereich des Konzerthauses betreten, wofür man Tickets hatte. So blieb es bei sehr wagen "Suchbildern" mit meiner kleinen Knipse, die den großen Abstand mit dem kleinen Zoom nicht überwinden konnte.
Band:
David Crosby – Gitarre, Vocals
Stephen Stills – Gitarre, Vocals
Graham Nash – Gitarre, Vocals
Joe Vitale – Drums
Infos:
Gilmour besuchte 2005 ein Konzert von Crosby & Nash. Danach lud er sie auf seinem On An Island Album zu singen. Außerdem lernte er durch die beiden Steve DiStanislao kennen und engagierte ihn als Schlagzeuger für seine Tour. Crosby & Nash sangen bei diversen Gilmour Konzerten 2006 in den USA und Europa. Und vereinzelt wurde als Zugabe der Stills Song Find The Coast For Freedom von Gilmour, Crosby & Nash gesungen!
Songliste:
Helplessly Hoping
You Don't Have To Cry
Ruby Tuesday
You Can Close Your Eyes
Reason To Believe
Lady Of The North Country
Guinevere
Dream For Him
In Your Name (new Nash song)
Our House
Uncle John's Band
Southern Cross
Rock 'n Roll Woman
Military Madness
Long Time Gone
Deja Vu
Cathederal
Bluebird
Almost 'found my hair'
For What It's Worth
Wooden Ships
Teach Your Children
Das Konzert war sehr schön. Die Drei legten sich richtig ins Zeug besonders Crosby gefiel uns ausgezeichnet. Die Klimaanlage der Royal Albert Hall war mit 30 Grad Außentemperatur und drinnen mit 8000 Konzertgästen überfordert, so dass wir völlig geschafft die Halle verließen. Mit dem Donnerstag und Freitag verbrachten wir weitere schöne Tage bei Sonnenschein und fast 30 Grad.