David Gilmour 25.3.2016 Los Angeles Hollywood Bowl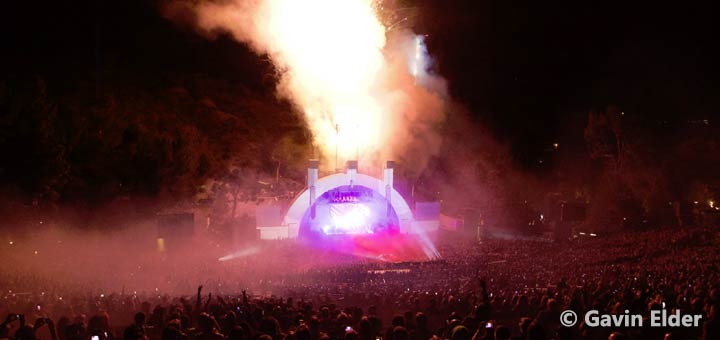 Beim zweiten Konzert in der Hollywood Bowl gab es mit "What Do You Want From Me" seit langem eine Ergänzung der Songliste! Gilmour spielte den Song im ersten Teil nach "Wish You Were Here". Sehr überraschend das er sich für "What Do You Want From Me", den er zuletzt mit Pink Floyd am 27.10.1994 im Earls Court spielte, entschied. Ich hätte nicht damit gerechnet! Vielleicht wird im weiteren Verlauf der Tour noch der eine oder andere Song dazu kommen. Er verzichtete dafür im zweiten Teil auf "On An Island". Sein Gitarrensolo am Anfang von "Shine On" war improvisiert und er versuchte auch den Rest des Songs über das eine oder andere neue Riff!
Seine Lichtshow war wieder atemberaubend! Auf Gilmour's Website wird berichtet, dass Marc Brickman für die Shows in der Hollywood Bowl, die einzigen Open Airs der Nordamerika Tour, 30 Projektoren einsetzte! So eine Lichtshow werden wir bestenfalls erst wieder in Europa sehen!
Spielstätte: Hollywood Bowl
Kapazität: 17.292 (ausverkauft)
Adresse: 2301 Highland Ave, Los Angeles, CA 90068, USA
Web: www.hollywoodbowl.com
Ticketpreise: 51$ bis 450$
Einlass/Beginn: 18h/20h
Band:
David Gilmour: Guitars, Vocals
Phil Manzanera: Guitar
Guy Pratt: Bass, Vocals
Jon Carin: Keyboard, Programming, Vocals, Lap-Steel-Guitar
Steve DiStanislao: Drums, Vocals
Kevin McAlea: Keyboards, Harmonica
João Mello: Saxofon, Clarinete, Keyboard, Guitar
Louise Clare Marshall: Backing Vocals
Bryan Chambers: Backing Vocals
Lucita Jules: Backing Vocals
Setlist:
Set 1:
01. 5 A.M.
02. Rattle That Lock
03. Faces of Stone
04. Wish You Were Here
05. What Do You Want From Me
06. A Boat Lies Waiting
07. The Blue
08. Money
09. Us and Them
10. In Any Tongue
11. High Hopes
Set 2:
12. Astronomy Dominé
13. Shine On You Crazy Diamond
14. Fat Old Sun
15. Coming Back To Life
16. The Girl In the Yellow Dress
17. Today
17. Sorrow
19. Run Like Hell
Zugaben:
20. Time
21. Breathe (Reprise)
22. Comfortably Numb
Ich danke TW, Oskar und Carsten für die Info! Foto von Gavin Elder!