David Gilmour 14.12.2015 Curitiba Pedreira Paulo Leminski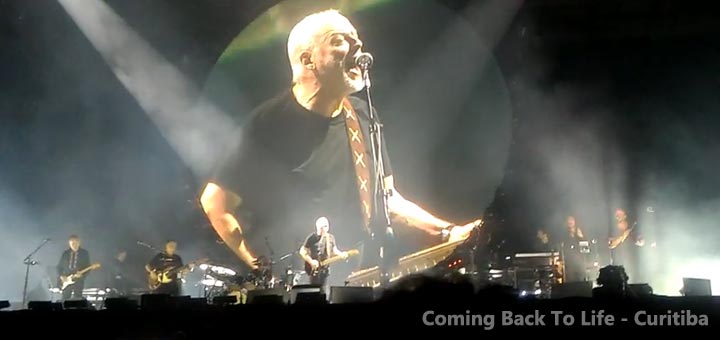 Das Publikum in Curitiba stand dem in Sao Paulo um nichts nach. Es feierte David Gilmour und seine Band von der ersten Minute an! Jede noch so kurze Pause zwischen den Songs wurde für 'Gilmour, Gilmour, Gilmour' Sprechchöre genutzt!
Damit nicht genug hatte das Publikum zwei Überraschungen für die Band mitgebracht. Bei 'The Girl With The Yellow Dress' flogen Dutzende Luftballons, die in den ersten Reihen aufgeblasen wurden, vor der Bühne herum! Und beim Song 'Run Like Hell' hielt das Publikum beschriftete Tafeln auf denen 'Run' stand entgegen! Guy Pratt hat es gefallen!
Guy Pratt: I'd just like to say thank you so much to Curitiba. One of the warmest, nicest audiences I have ever played to. You got the feeling that everyone thought they were seeing and hearing something that they never thought they would. And those 'Run' signs. Amazing!
Die Bühne war deutlich kleiner, als die im Fußballstadion in Sao Paulo. Mr. Screen fand gerade noch Platz. Beim dritten Konzert in Brasilien gab es die erste kleine Setlist Änderung. Wie vereinzelt bei den Europa-Shows im September spielte Gilmour in der zweiten Konzerthälfte "Coming Back To Life". Diesmal allerdings anstatt von 'On an Island', das damit auf dieser Tour das erste Mal nicht gespielt wurde.
Gilmour's Langzeit-Roadie Phil Taylor feierte seinen Geburtstag! Anlass genug für Gilmour bei einem Gitarrenwechsel Phil alles Gute zu wünschen, dass Publikum sang ihm ein 'Happy Birthday' Ständchen! Einen ganz besonders großen Applaus erhielt der Saxofonist João Mello. Er stammt aus Curitiba! Bei den letzten paar Songs gab es Blitz und Donner und es begann zu regnen, aber das kümmerte niemand. Das Konzert endete mit einem bewegenden 'Comfortably Numb'. David sagte zum Schluß: "Ihr wart ein fantastisches Publikum."
Spielstätte: Pedreira Paulo Leminski (Open Air Anlage)
Kapazität: 23.300, ausverkauft
Adresse: R. João Gava, Curitiba PR, Brasilien
Web: Curitiba Pedreira
Ticketpreise: R$ 1.400 bis R$ 79
Einlass/Beginn: 15h/20h
Band:
David Gilmour: Guitar, Vocals
Phil Manzanera: Guitar
Guy Pratt: Bass, Vocals
Jon Carin: Keyboard, Programming, Vocals, Lap Steel Guitar
Steve DiStanislao: Drums, Vocals
Kevin McAlea: Keyboards, Harmonica
João Mello: Saxofon, Klarinette, Gitarre
Lucita Jules: Backing Vocals
Bryan Chambers: Backing Vocals
Set 1:
01. 5 A.M.
02. Rattle That Lock
03. Faces of Stone
04. Wish You Were Here
05. A Boat Lies Waiting
06. The Blue
07. Money
08. Us and Them
09. In Any Tongue
10. High Hopes
Set 2:
11. Astronomy Dominé
12. Shine On You Crazy Diamond
13. Fat Old Sun
14. Coming Back To Life
15. The Girl In the Yellow Dress
16. Today
17. Sorrow
18. Run Like Hell
Zugaben:
19. Time
20. Breathe (Reprise)
21. Comfortably Numb