David Gilmour 24.3.2006 Mailand Teatro Degli Acrimboldi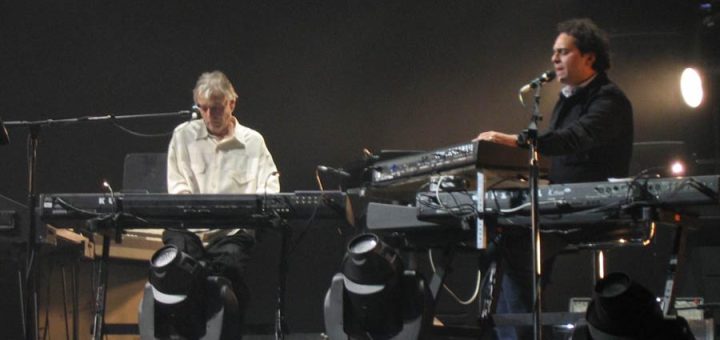 Bericht von Werner Haider
Auch wenn die Anreise von Österreich aus, mit 700 Autobahnkilometer verbunden war, am Ende des Abends haben sich die Strapazen doch wieder gelohnt.
Peter Schernthaner reiste von Wörgl aus mit mir gemeinsam an. Nach einer den Pfadfindern alle Ehre machenden Hotelsuche durch Milano City, war die Suche nach dem Theater vergleichsweise, ein Wimpernschlag. Das "Teatro degli Acrimboldi" wie es die Italiener nennen, ist ein von außen betrachtet moderner Bau, und innen eine wahre Augenweide.
Ich hatte heute bei meiner Gilmour-Tour meinen bisher besten Sitzplatz: Reihe 11 Sitz 11. So nahe wie heute war ich Gilmour noch nicht gekommen. Der Sound war auch so gut noch nie. Das italienische Publikum sorgte für eine Fantastische Stimmung. Schon bei den "On An Island" Stücken wurde zum Teil mit geklatscht, mitgesungen und kräftig gejubelt! Sie bewiesen wieder einmal, das sie Weltmeister sind, wenn es darum geht eine großartige Konzertstimmung zu kreieren.
"Castellorizon" ein toller Opener. Sehr spannend – kommt wie Ozeandampfer daher, bis dann Gilmours Gitarre einsetzt!! "On An Island" Gilmour und Phil Manzanera spielten im Mittelteil beide jeweils ein Solo! Bei "The Blue" und "Red Sky at Night" gab es "keine Besonderheiten". "This Heaven" das Publikum klatschte bei den ersten Takte mit! Rick Wrights Hammond Orgel fiel mir heute erstmals deutlich auf. Das kann aber auch an meinem guten Sitzplatz und der damit besseren Akustik gelegen haben. Gilmours Solo grollend und es wird immer besser. Wie mir der erste Teil heute überhaupt viel besser gefiel. "Then I Close My Eyes" Phil Manzanera spielte anstatt dem Keyboard ein Gitarrensolo und Dick Parry ein schönes Saxofonsolo. Als dann auch Rick Wrights an Hammond Orgel einsetzte gab es wieder Applaus dafür aus unseren Reihen. Zum Ende spielten Gilmour, Parry und Manzanera gemeinsam ihre Solos. Das Stück war mit über 8 Minuten rekordverdächtig lange! Mal abwarten ob davon noch eine längere Version auftauchen wird! Dann folgte die Bandvorstellung. Als Gilmour dann Rick Wrights Namen erwähnte gab es zuerst lautstarken Applaus und schließlich: "Richard, Richard, Richard" Sprechchören. Wright war sichtlich angetan von dieser Begrüßung. Auch Jon Carin bekam einen anständigen Applaus. "Take a Breath" wurde von Gilmour mit den Worten: "This ones a little bit louder!" angekündigt. "Smile" rutschte in der Reihenfolge um eins zurück. "A Pocketful of Stones" und "Where We Start" schlossen den ersten Teil ab.
In der Pause wurden bei der Bar die Bandmitglieder von Simple Minds gesehen. Sie standen unbehelligt beisammen und nahmen ein Bier zu sich. Eine Filmkamera stand im zweiten Teil beim Mischpult.
"Wot´s … Uh The Deal" bevor David Gilmour sein Solo mit der Slidegitarre anstimmt spielt Wright ein Solo am Piano. "Wearing The Inside Out" kündigt Gilmour mit den Worten: Der Song endet auf eine jazzige Art. Dick Parry und David Gilmour ergänzen sich herrlich. "Coming Back to Life" mit dem heftigsten Gitarrensolo den dieser Song bisher erleben durfte. Gilmours Finger flogen über die Saiten seiner Gitarre. "Breathe" startet etwas holprig und richtig leise nachdem zuvor rockigen und lauten "Coming Back to Life". "Time" das Publikum klatscht lautstark zu Pratts "Tick-Tack". "Breathe Reprise" der erste Gitarren-Riff von Gilmours ist sehr stark gespielt. "High Hopes" sehr schön mit sanften Akustikgitarren Ende! "Echoes" ein kleiner Misston von Wright bevor es los geht. Als das erste "Ping" zu hören war, konnten es viele im Publikum nicht fassen. Die Freude darüber diesen "Song" noch einmal hören zu dürfen, wurde lautstark kundgetan.
Vor den Zugaben wurde nicht nur lautstark geklatscht sondern wie in Italien üblich auch gesungen und "David" Sprechchöre angestimmt! Nach weniger als zwei Minuten stand die Band bereits wieder auf der Bühne. "Wish You Were Here" lautstark wurde der Song vom Publikum mitgesungen. Gilmour: "Thank you very much in deed. Right we have time for just one more this is .. Comfortably Numb". "Comfortably Numb" grandioses Solo! David Gilmour verabschiedete sich von uns auf italienisch: "Crazie Mile Buone Notte".
24.3.2006 Mailand Teatro Degli Acrimboldi
In der ersten Hälfte spielt Gilmour jetzt "Take A Breath" vor "Smile".
Band:
David Gilmour: Guitar, Saxofon
Rick Wright: Keyboard, Vocals
Phil Manzanera: Guitar
Guy Pratt: Bass, Guitar
Jon Carin: Keyboard, Guitar, Vocals
Steve DiStanislao: Drums, Vocals
Dick Parry: Saxofon
Set 1:
01. Castellorizon 4:48
02. On An Island 6:36
03. The Blue 5:40
04. Red Sky at Night 3:28
05. This Heaven 3:57
06. Then I Close My Eyes 8:15
07. Take a Breath 6:38
08. Smile 4:41
09. A Pocketful of Stones 6:14
10. Where We Start 7:18
Set 2:
11. Shine On You Crazy Diamond (Parts 1-5) 11:25
12. Wot's... Uh The Deal 5:07
13. Wearing The Inside Out 8:05
14. Coming Back To Life 7:08
15. Speak To Me 0:28
16. Breathe 2:42
17. Time 5:27
18. Breathe Reprise 1:06
19. High Hopes 8:35
20. Echoes 20:58
Zugaben:
21. Wish You Were Here 4:57
22. Comfortably Numb 8:14
Nächstes Konzert:
‎25.3.2006 Mailand Teatro Degli Acrimboldi
Vorheriges Konzert:
‎20.3.2006 Amsterdam Heinecken Music Hall